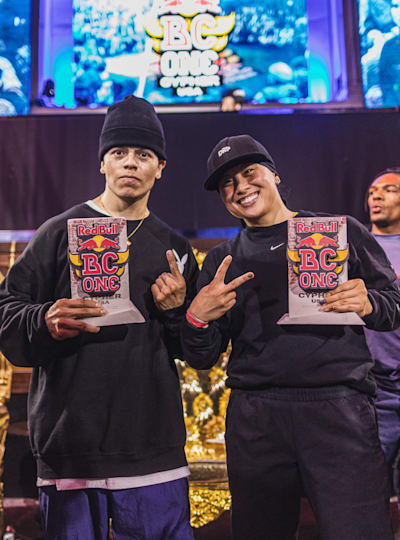 © Carlo Cruz
Meet the Red Bull BC One USA Finalists: B-Girl Sunny and B-Boy Ali
Get to know the breakers who will be representing the United States at the 2022 Red Bull BC One World Final on November 12 in New York City.
I had never been to a
Red Bull BC One
event before, so starting at the
US National Finals
was quite the introduction. I arrived at the venue around 6:00 pm, the
Los Angeles
sky was starting to tease a sunset of watercolor-esque swirls of pinks and oranges and it reflected beautifully on the outdoor fountain that peacefully greeted guests on their way in. Inside was another story altogether.
The sold-out venue,
Eden Sunset
, had a capacity of 1,000. Judging by the way three tiers of folks were shoulder-to-shoulder vying for a good view of the stage and cheering their hearts out, I believe it. On the main floor were three throne-like chairs reserved for the judges (legends
Omar MZK
,
Neguin
, and
Asia One
) flanking a circular outline on the floor — the entire circumference of which was full of break dancing fans and supporters shouting, cheering, and waiting for their VIP view of the cypher. It was there, in that circle, that 16 B-Boys and 16
B-Girls from around the US
left it all on the floor to determine who would represent the country in the World Final. After three hours of back-to-back to back-to-back battles and a crowd whose energy didn't quit, the victorious two emerged: B-Girl Sunny from NYC and B-Boy Ali from Salt Lake City.
01
Grace Choi, aka B-Girl Sunny
How did you feel when you were announced as the winner?
I was pretty tired [laughs]. So while we were waiting, I was just kind of chilling. But when they actually announced it — my mom was there — my first thought was, "Oh my gosh, I won and my mom gets to be here for this!" In the live stream you can actually see me mouthing "mom" as I'm looking for her. She's from a pretty conservative background and doesn't know anything about breaking or hip-hop, so it was special for me that she was there and so supportive.
You were a pretty intense gymnast for a while. How do you incorporate that into your style of dance?
I think I incorporate the training and mentality that I got from gymnastics sometimes. And, of course, there are some physical learnings of body awareness and knowledge of muscle groups that I find helpful. But I always wanted to break the mold of being a "gymnast breaker." I loved the creative freedom of breaking that doesn't exist in gymnastics so, for that reason I wanted to pull away from gymnastics. I used to do only footwork and very little power. Now I have a balance.
How will you prepare for the World Final?
I don't think I'll do much differently. The Olympics are coming up and I'd like to compete there, so my training has already changed. I just want to go and have fun. It's in New York and I've lived in New York for 10 years, so I just want to rep me and my city!
Did you go anywhere specific to celebrate when you got home?
I got…pizza [laughs]. Classic New York thin slice pizza. Which is kind of funny because I'm lactose-intolerant and have to take pills. I kind of sabotage myself to do it, but it's worth it!
What about your dancing do you want people to remember and pick up on?
Honestly? My energy and my smile when I'm dancing. When I started, so many people told me to stop smiling and be aggressive. But no part of me is aggressive like that and I'm so happy when I dance. I don't think smiling is unique to me, but I think it does set me apart and it is my way of saying "Hey, do you! Do what makes you happy!"
Is there anything you'd like to say to hip-hop?
Wow, this makes me emotional. I would just say thank you. I spent my whole life doing what I was supposed to do and never what I wanted to do. I feel like hip-hop has given me that outlet to pursue my passion and do what I love. And on top of that, I've become a kinder, wiser person because of this community and the experiences it offers. I'm just so really, truly grateful for what hip-hop has done for me. And I hope I can give back, too, sometime.
02
Francisco Acuna Flores, aka B-Boy Ali
Utah isn't known as a hip-hop mecca, how does it feel to be representing a place that's not often looked to in the breaking scene?
I get that a lot. Sometimes people don't even think there's a hip-hop scene in Utah. It's good and bad: good in that I get to show people that there is a scene, but it's bad because people don't have an interest in coming out this way. I travel a lot, so it works for me. I still like to put Salt Lake City on the map.
What went through your mind as the judges raised your hand in the air as the winner?
It felt incredible. I mean I've been there before, but winning the National Finals was a different feeling. Winning a local or regional jam is cool, but this hit different. I'll be representing the USA.
What do you hope people see as your signature for what you do?
There are a lot of different styles of breaking nowadays. I like more of the traditional way, the classic, true B-Boy style. From the footwork to power, transitions, freezes, everything! And the attitude comes with it, too. I just want people to see breaking in its truest form.
What do you think a national win means for your career?
I try not to let it get to my head. I've been doing this for so long — long before a national championship. But, I feel it. It's a big win, but I try to stay humble more than anything. I'm still just another guy who likes breaking and likes hip-hop.
In addition to being a competition, it felt like a family gathering. Was it a reunion for you?
It's always a reunion! For the most part, we all live all over the place. So when we have these bigger competitions, it's a way to see a lot of old faces. Even though it's a competition, we're all there to share this one passion and celebrate dance together.
Is there anything you'd like to say to hip-hop?
I'm just blessed to be able to do this. To be part of such a beautiful culture. I hope I can keep doing it for as long as I can.