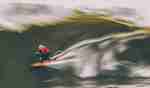 Relive all the mayhem of Red Bull Cape Fear 2016 right here, right now
Catch up on two days that redefined surfing's outer limits as Red Bull Cape Fear went off the richter in 2016, then scroll down for unmissable videos.
Russell Bierke tames the wildest event of all time!
The event ran like no other in
surfing history
. A week of wild weather in Sydney saw Cape Solander maxed-out on day one, with many competitors claiming it was easlily the biggest the infamous break has ever been surfed.
The surfers were aware of the risks that came with paddling out, yet deemed it worth the reward. A unanimous surfer vote saw the contest kick-off on day one in barely surfable 12ft barrels, and from the opening horn the 16 invitees were ready to charge, take risks, pull in and lay it all on the line.
While much talk was focused on the general safety of the conditions, the most affected, yet most comfortable, folk were the surfers. Over the course of four heats and a final there was only one injury, at the end of the very first heat, and the water patrol were more than capable of keeping the situation safe for everyone involved.
Justen 'Jughead' Allport, confident after a number of solid tube rides saw him take the lead, pulled into a monster near the end of the opening heat. The wave turned inside out, thashing Allport underwater before eventually relenting and allowing him to surface with a gash at the back of his head and a tweaked shoulder. Allport was taken to hospital where he was assessed and soon cleared to go home.
Back at the event site on the morning of day two Allport confirmed all was well, he was just feeling a little bit sore.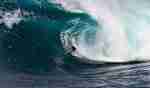 Best wipeouts from Red Bull Cape Fear 2019
"The boys out there were so good," said Allport about the water patrol. "All the
Pro Guarding
guys did an amazing job, especially Ryan Hipwood who was driving a jetski and towing us surfers in. I can't thank him enough, he was first there and I was pretty pumped when all of the boys had my back."
Day two
saw waves cleaner and more manageable than day one's monstrosities, and paddling was added back into the roster.
Unsurpisingly scores were higher, with more tubes threaded and wipeouts just as spectacular, but slightly less life threatening. At one point the sun came out and for a second you could almost have considered that Cape Solander looked pleasant.
Then Laurie Towner got washed up on the rocks and Kirk Flintoff and Perth Standlick were launched 10ft in the air by backwash, and you remembered pretty quickly that this was no place for the average surfer.
And at the end of four heats it came down to four men, locals James 'Rooster' Adams and Koby Abberton, Gold Coaster Ryan Hipwood and Bierke.
Morning standouts Abberton and Hipwood picked up where they left off, while Adams suffered a couple of tough wipeouts and a couple of screamers, but it was Bierke who seized the opportunity to make a name for himself.
Opening up the tow portion of his final with a pair of incredible nines, victory was all but assured. When the set of the day reared its head Bierke demonstrated the poise of a veteran, fading where most would gun for the shoulder, driving deeper and further from the safety of the channel in pursuit of points.
The wave finally surrended to gravity and as a thick, mean lip spilled over him Bierke held his line and his nerve and flew into the deeper water with a perfect 10 to ice his Cape Fear cake. Congratulations Russell, what an achievement!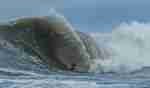 The craziest Red Bull Cape Fear compilation yet
Catching up with Red Bull Cape Fear champion Russell Bierke
Russell Bierke
, winner of the 2016 Red Bull Cape Fear event, is Australia's next big – big wave – thing.
Around the event site on the tip of Botany Bay, he was praised as the new guard, coming in strong and fierce and hungry, and in becoming champion, he solidified his place in the big wave world. We caught up with the Cape Solander champion for a quick chat, soon after winning the heaviest event in surfing history.
Hey Russ, how are you?
I'm good! I've been flat out since the event though. I went on the Footy Show and did a bunch of other interviews, too.
Does it all seem a bit surreal?
Yeah, definitely. It doesn't feel real right now. I think once I get home though it'll all sink in. It's like I've been in a dream and it just keeps going.
When you came into the event did you think you had a shot at winning?
I wasn't thinking about winning at all, I just wanted to surf against my heroes. I couldn't believe I got the call up to be in the event, and I was over the moon to surf against those guys.
What'd you think when you saw the surf on that first day?
We were all sitting on the rocks just going, 'Are we really going to do this?' I was actually counting the amount of makeable waves to the amount that were just in no way makeable. And in 10 minutes I counted two makeable and 10 unmakeable, so you had a one-in-five chance in making the wave if you rode it perfectly, really.
How hard is it to pick the makeable waves from the evil ones?
It was hard, especially because I'd never towed out there. On the Monday it was almost impossible to pick – you wouldn't know until you were at the bottom of the wave, and at that point it's too late to pull off. On the Tuesday it was a lot more manageable though.
Did you get smashed at all?
I actually don't think I touched the bottom at all. I felt myself skim by a rock really fast at one point, and that was a close call, but mostly I just got held under forever. It's pretty cool that no one got seriously injured, and I was really glad Jughead turned out OK. The safety support was so onto it though. Every time you fell and popped up they'd literally be right there. I was alright to paddle back out after every beating, but if I wasn't they would have been straight onto me. They knew where we were going to pop up each time, with the currents and everything.
Was it calming, knowing that the safety team had your back?
Yeah it was huge. They were so onto it that it made you feel like you could push a bit harder. But, at the same time, you're pretty much on your own until the set finishes. They can't get a ski in there with 12ft waves breaking that close to the cliffs. And if they did, they'd end up needing a safety team. But it gave you such peace of mind; everyone knew that if something bad did happen, you'd be in the best possible hands.
Was the 10 you got in the final the highlight of your event?
Definitely the highlight of the event for me! I had just come off of a few good waves, and I was so stoked already. I thought that wave, the 10, was actually going to break off the reef and crumble on me. I was seriously questioning why I was going it, but sometimes you just get the impulse, and you think… why am I doing this? But you just keep doing it. And when I got to the bottom and realised it was holding, I was so stoked.
Your parents were at Cape Fear watching, right?
Yeah they were. I didn't want to have mum watch me get hurt. She knows there's risk involved, but she also knows how much I love it and that I've had a lot of experience in heavy waves. It's just different when she looks at photos after it's done, versus watching it happen.
Do you ever find yourself wondering about why you keep charging and if it's worth it?
Sometimes I question it, but I never think that I don't want to do it again. I know that the two days after you surf waves like Cape Fear, you're beat up and sore and you think, why do I do this? But a couple of days later you're stinging for the next swell. Once everything recovers, mentally and physically, you just want to do it all over again.
Is your body hating you right now, or are you OK?
I'm still a bit sore but I came off very well. I'm pretty mentally exhausted though, I can't wait to go sleep in my own bed tonight!
Would you consider this the biggest accomplishment in your surfing career?
Definitely. 100 percent, this is the biggest accomplishment of my life.
Red Bull Cape Fear's biggest barrels will blow your mind!
The greatest pits collection from this year's
Red Bull Cape Fear
is an instant, breathtaking classic.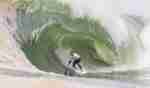 Red Bull Cape Fear Best Barrels Edit
In 2016 Australia's Red Bull Cape Fear event was the wildest demonstration of tube riding ever seen in a jersey. Although billed as a competition pitting evenly matched foes against one another, when a 50-year storm dumped the wildest waves seen in the Southern Hemisphere in a long time on Sydney's head, suddenly the stakes became much greater. To win the world's greatest slab surfing event, you were going to need to thread double overhead tubes like a demon, and that's what the video above showcases.
Life and death is a term thrown too easily, but it's not far off when describing the fallout of a mistimed run at a Cape Fear monster. This clip is all about the glory, however, so you can rest a little easier knowing that this one comes with all the crazy caves and none of the killer consequences. Hit play now and mindsurf your brains out.
See GoPro footage from the heaviest event in history
This Red Bull Cape Fear POV edit will shake you in your shoes – watch it now!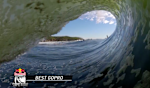 All the best GoPro Action from Cape Fear
The well of jaw-dropping footage from the event at Sydney's infamous Cape Solander is far from dry. After studying the land and water shots all week, why not step behind the lens and enter the realm of the GoPro? There's nothing like a POV angle to really put yourself in the picture, and with a few of our warriors volunteering themselves as cameramen, you just know the results are going to be crazy.
This is as close as you'll probably ever want to get to the barrel at Cape Fear, and it sure makes for compelling vision. Come get tubed without getting your hair wet right now!
Mark Mathews details what makes Cape Fear special, and how best to surf it
Not many people have put in more time at Cape Solander than
Mark Mathews
. The man who's broken so many bones his friends call him Chalk loves the wave so much that last year he birthed the idea that became Cape Fear.
Fresh out of the water after a dawn session we caught up with the man who's so comfortable at Solander he's started surfing it in the dark (see edit below) to get a little inside knowledge on what makes the waves, and how to make a wave, at Cape Solander.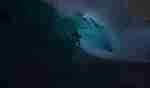 The first winter swell hits Cape Fear 2015
Mark, you've been surfing this wave most of your adult life. What is it that keeps drawing you back?
It's my favourite wave in the world, straight up. It's just the right mixture of scary perfection.
Is there a surf you've had out there that sticks out in your mind?
I did a night shoot out there once and it was pretty insane, probably one of the most memorable surfs I have ever had, alongside close mates like Dean Morrison (pictured above) and Ryan Hipwood. It was such a crazy experience to get barrelled in the middle of the night!
What about Cape Fear… what have the highlights been in previous years for you?
Ryan Hipwood got a barrel at the start of the event that was absolutely off the hook, and of course Koby Abberton getting hammered off the rocks was pretty classic!
What's it like getting off the rocks?
There's nothing easy about the jump off at Cape Fear, especially when its over six-foot. Like most rock jumps it's all about timing, experience, and never taking your eye off the ocean. Last time Koby, one of the most experienced guys there ever, looked away for a split-second to help Bruce Irons and got dusted. The jump-off is covered with barnacles, slippery in places and has head-high surges. Keeps the crowd down.
How thrilled are you that the event is back again in 2016?
Yeah, I'm stoked it's on again. The first year the waves were pretty average, and I just really hope people get to see it at its best this year. I like the fact that we can have a final battle and an overall winner with the changes put in place. It's hard to get a long enough window of pumping waves, but I reckon this could be the year!
What's the most important thing to remember when you're competing out there?
I always tell people they have to look for the benders – the waves that come out of the east and bend. The barrels are thicker and longer.
What does it take to master a wave like this?
Wave selection plays a huge role, and the other big part is getting your head around being so close to the rocks. If you can do that then you'll be well on your way.
Who are the main guys to beat?
Kirk Flintoff has been going mad out there on his backhand in the last few swells, he could beat any of the natural footers, and I think Albee Layer will be sick to watch too.
What would it mean to you to win Red Bull Cape Fear?
I honestly just hope the waves pump for the event. Winning would be a bonus, but as long as the event goes down in crazy waves I'll be happy.
Mark's top tips for surviving Cape Fear
Landmarks in the lineup…
I've got a spot on the cliff that lines up with my preferred spot to paddle in. Then, depending on the tide, I just choose different lines when I'm whipping in on the ski. It's tricky towing; if the timing is not right you get stuck up the top of the wave and have to drop off a big step, but if you drop in too early to avoid the step you usually lose too much speed and end up getting sucked into the lip! Tough one.
Water movement...
Being located in the mouth of Botany Bay, Cape Fear is pretty tidal, especially if the swell has too much south in it. It's definitely a lower tide wave, but as the size jumps you need more water over the reef. It's a fine line though, the higher the tide the bigger the backwash. The currents aren't too much of an issue, as long as you hold your spot at the top of the queue you'll be in the spot.
Sets...
Reef breaks are generally more predictable than beachies, but like all spots there are plenty of different moods depending on the size and direction of the swell, and what the tide's doing. The more time you spend out there the better you'll pick the waves you want to be on. The first or second waves are usually a little more predictable with navigating the backwash, then it starts to fill up with wash as the set goes on.
Taking a beating...
I got smoked last year on the night before the event; got slammed on the reef and thought I'd broken my back. Luckily x-rays showed no broken bones, just severe bruising. Another free lesson from Cape Fear and I was okay to compete the next day, just in a bit of pain. I usually wear booties too, there are huge barnacles on the bottom so it gives you a little peace of mind knowing you can push off the bottom and try and get out of the way of the next few waves after getting whipped by a big one.
Bonus content! When Kelly met Solander...
I definitely wouldn't say I showed him the ropes! Kelly Slater is the best surfer in the world, he adapts and gets comfortable at new spots faster that anyone. When you have as intimate a connection with the ocean as Kelly you only need to watch a couple of waves and the rest is instinct. I'm sure if I took John John Florence out there he'd get comfortable really quickly too. What makes these guys good is that they really back their ability, fear doesn't make them second guess what they can and can't do. There's no hesitation, they don't stiffen up when they take the drop and when they weave through the barrels.
Red Bull Cape Fear returns for 2016!
Enjoy the spine-shivering trailer below.
Red Bull Cape Fear returns for 2016