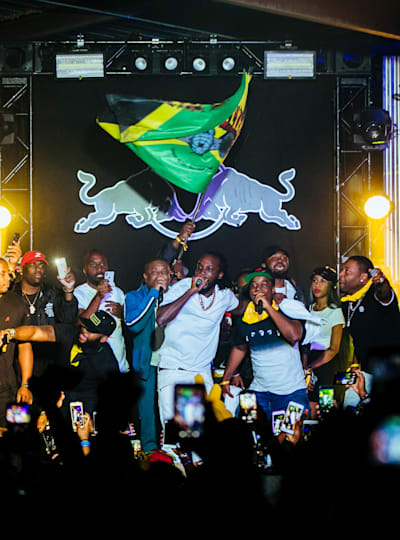 © Maria Jose Govea / Red Bull Content Pool
Red Bull Culture Clash Returns to the United States in 2022
Look for live events in New York and Los Angeles.
After a four-year hiatus, Red Bull Culture Clash returns to the United States this spring and summer for special events on both coasts.
For the 2022 shows,
Red Bull Culture Clash
is tapping into community and talents in
New York
and
Los Angeles
. On May 19 in Brooklyn, fans will be treated to a clash of hyper-pop, reggaeton, hardcore, and hip-hop fostered by the New York City's diverse underground nightlife scenes, as four crews all face off to see who will reign supreme.
Then on June 24, Red Bull Culture Clash will descend on Los Angeles to celebrate the Latinx musical diaspora across several iconic genres. Legendary LA party crews will go round-for-round to win over the crowd.
Inspired by
Jamaican soundsystem culture
, where more is more, and community is king, Red Bull Culture Clash is more than a DJ battle or band competition. Instead, prepare for head- to- head performances, where each crew can show off their heaviest sound, best tunes, most effective MC tactics, and any crazy presentation they can dream up.
Over four rounds
, crews will spin, throwing in dubplate specials (aka a song recorded by a crew that only they can play) and custom dubs, and will bring out special guests. The first round (and the only unjudged round) will be mainly about warming up, so take the time to get to know your crews. But round two will be purely judged on song choice and smack talk—so players better come correct. During round three, crews will swap styles, and attempt to beat each other at their own game. And—plot twist—while special guests and dubplates are welcome at any time, on round four, they'll be required.
Important: there will be no repeat tracks! Spinning a song that your competitor already used means getting disqualified from winning that round. Winners are determined by crowd reaction via a decibel reader, and the fourth round counts for double—so no crew is down for the count until the very end. But a little competition is healthy, right? Helping out the proceedings each night will be a special host, who will be enforcing the rules, breaking ties, and ultimately, crowning a winner.
Curious what you might be seeing? In 2017, Red Bull Culture Clash held an event in Atlanta where Unruly ft. Popcaan triumphed over Enjoylife ft. Wondagurl, Eardrummers ft. Mike Will Made It, and Disturbing London ft. Tinie Tempah. And in 2018 fans might remember the return to Atlanta with an event featuring Fireboy Sound ft. Fuego, Zaytoven Global ft. Zaytoven, Don't Think ft. Mija & Kenny Beats, and Frequent Flyers ft. Kranium—who took home top honors.
Need more reasons to get excited? Check out
past performances
, including Rebel Sound, Major Lazer, Annie Mac, Eskimo Dance, and A$AP Mob. The biggest name isn't always the big winner—so expect anything and everything to happen.
Let the games begin! Mark your calendars so you don't miss your chance to catch one of these unparalleled and interactive shows. Stay tuned for more stories from
Red Bull Culture Clash 2022
.