A passion for BMX and the allure of contemporary architecture combine once more in "Red Bull Design Quest 2.0," with the street action moving from Italy to Spain for this edition.
Simone Barraco
and
Anthony Perrin
, both of whom appeared in the
2013 Italian series
, are joined by Spanish native
Courage Adams
, with the three riding iconic architectural structures in locations in Bilbao, Casar de Càceres, Benidorm and Seville.
Watch the full "Red Bull Design Quest 2.0" action clip below: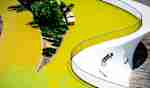 Red Bull Design Quest 2.0 - Action Clip
Sergio Layos
and
Viki Gómez
make appearances in Bilbao and Seville, respectively, to add their riding talents to the mix.
The tour went well. The traveling was a little tough, but I'd say it was perfect thanks to the group of riders, the spots we found and the climate.
As with the 2013 Italian edition of "Red Bull Design Quest," "2.0" celebrates the very best of contemporary architecture. In Bilbao, the guys visit the Galindez Slope, a distinctive structure composed of sloping polygons. They then take the road to Benidorm, where the seafront features a shaped construction that joins the town to the Mediterranean Sea.
From there they move onto Casar de Càceres, where they ride the town's strikingly expressive bus station. The Metropol Parasol in Seville, a stunning piece of work designed by the architect Jurgen Mayer and made entirely from natural materials, is the last destination for the group after a week of traveling and 20 hours on the road.