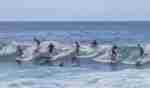 "Red Bull Foam Wreckers," a new event series from the mind of
Jamie O'Brien
, produced by Red Bull and Catch Surf, is a participatory surfing event series where only foam (soft-top) surfboards are allowed. It's that simple.
With 13 events held in 5 different bodies of water, male and female surf enthusiasts around the country will have the opportunity to enter into the world's most fun surf competition. Entrants will compete alongside soft-top surf heroes Jamie O'Brien, Kalani Robb, Ben Gravy, Blair Conklin and the rest of the Catch Surf team.
"The whole soft board movement is so fun, and the relatability of people surfing carefree is so appealing," says Jamie O'Brien. "I feel like Red Bull Foam Wreckers is the coolest contest in the world, because anybody could win. It's not about how good you are, it's about how much fun you can have and how creative you can be."
From Texas, to New York, San Diego to Oregon, Hawaii to Florida and everywhere in between, Red Bull Foam Wreckers will be coming to beaches around the United States from May through to October 2021. Safety protocols will be implemented at every stop to allow for a clean, healthy and socially distanced outdoor event.
"I want to see all the kids, all the families and all the local heroes show up, and I want to put on the best event possible for them," continues O'Brien. "This is what life is all about, having fun and getting together! And it's really cool that we will be out there having fun in a safe environment. If there's anybody who wants to come down to their local event, but is worried it's too far of a drive… I can promise you, Red Bull Foam Wreckers is going to be worth it!"
See the full event schedule and find out more
HERE
.