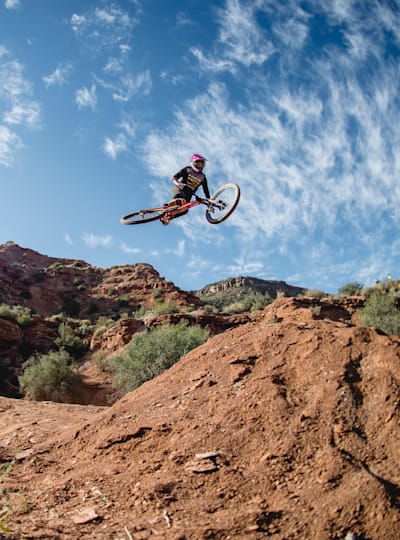 © Re Wikstrom/Red Bull Content Pool
The 2022 edition of Red Bull Formation is ready to go
The third edition of Red Bull Formation is just about to start in the deserts of Utah. Get all the info ahead of this week-long women's freeride event.
Over the course of the next week twelve women mountain bikers will be aiming to push the boundaries and progress women's freeride at the third edition of
Red Bull Formation
. The premier all-women mountain bike freeride event gets underway on May 8 and ends on May 15.
01
What is Red Bull Formation?
Red Bull Formation gives female mountain bike athletes the opportunity to go to one of the most challenging and iconic freeride venues in the world and then scout, and sculpt big freeride lines on a big mountain location before shredding them in top-to-bottom runs. While in Utah, the athletes are given the tools, resources, mentorship and visibility to propel the sport of women's freeride forward.
Find out more about Red Bull Formation in the film below:

27 min
Progression
Meet the riders from Red Bull Formation 2021 who are transforming the sport of freeride mountain biking.
02
Why Red Bull Formation is not a contest event
The overall aim of Red Bull Formation is to progress and develop women's freeride so it creates a future path for women in freeride mountain biking. With that in mind the riding that takes place on the lines the female athletes build is in the form of just sessioning those lines. There is no pressure on performance and the vibe is all about having fun on the bike.
Nothing is manicured for the athletes who compete at Red Bull Formation, so once athletes arrive at the Formation site they will have to identify and then start building the lines they want to ride. In building those lines and supporting features on them like drops or jumps, athletes will be able to bring fellow athletes, male or female, to help them dig and sculpt. These athletes will be able to provide advice and encouragement.
There will be no live coverage of Red Bull Formation but you will be able to find updates during the week of the event on the
Red Bull Formation event page
.
03
Who's competing at the 2022 event?
The athlete list expands from the eight that took part in the 2021 edition of Red Bull Formation to 12 for this 2022 event. The twelve invited athletes are hand-picked by a selection committee made up of four professional female athletes, members of the media and industry veterans. Invites were based on several factors such as experience, big bike handling skills and control, air awareness, overall style, mental strength and potential in the sport.

8 min
The perfect freeride training ground
Casey Brown, Robin Goomes and Cami Nogueira prepare for another year of progression at Red Bull Formation.
Cami Nogueria | Argentina

Louise Ferguson | United Kingdom

Robin Goomes | New Zealand

Vero Sandler | United Kingdom

Vinny Armstrong | New Zealand
There are four new faces competing this year – Robin Groomes, Harriet Burbidge-Smith, Louise Ferguson and Georgia Astle. Vero Sandler took part in the first edition in 2019 and makes her return this year.
Hannah Bergemann will be taking part in her third Red Bull Formation and can't wait to get back to Utah: "This event really kickstarted a movement in women's freeride and helped open doors for women in the sport. Now there are more events with female riders, more women pushing the sport and more opportunities for women to pursue freeride."