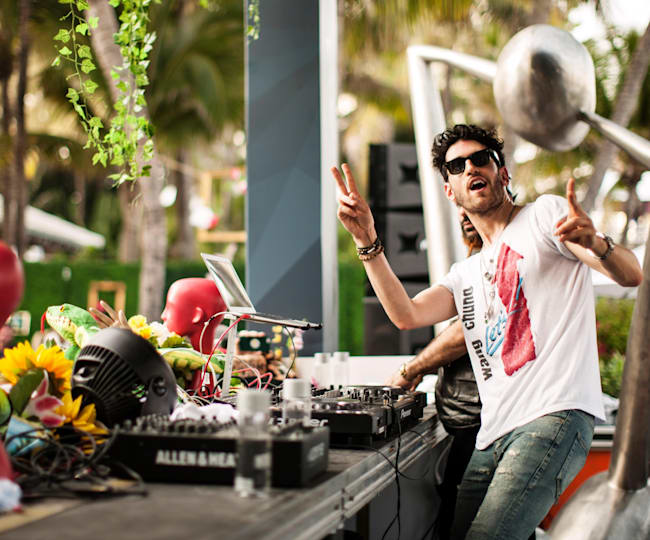 © Robert Snow/Red Bull Content Pool
Livestream: Red Bull Guest House Music and More
Tune in March 26-29 between 1-9 p.m. ET for sets and words with Lil Wayne, George Clinton and more.
Hudson Mohawke
and Questlove are also scheduled to make appearances, and RedBull.com/Music has you covered all weekend long, from exclusive photos from our team of photographers to social posts from the hotel guests to a livestream (below) provided by
Red Bull Music Academy Radio
.
Tune in between 1-9 p.m. to hear live-to-air mixes and interviews with the above artists, plus Dixon, DJ Harvey, Arthur Baker, Man Parrish, KiNK, Peaches,
Boys Noize
, Jackmaster, Carl Craig, DJ Sliink, Cajmere, Radio Slave, Clark,
Mannie Fresh
, Agoria, Cassy,
Salva
, Jneiro Jarel, Miami Bass legend DJ Magic Mike and many more.
Click on the RBMA Radio link in the livestream player below (active between 1-9 p.m.). All times in the schedule are EST, and check back for updates.
Daily Miami Bass Special every day from 1-2 p.m. featuring 2 Live Crew's Luke, DJ Laz, JT Money of the Poison Clan, 69 Boyz, Hydraulix and Dynamix II.
1-2 p.m. - Luther Campbell (2 Live Crew)
3:30-4 p.m. - Seth Troxler
4:30-5 p.m. - Arthur Baker
6-7 p.m. - Eats Everything
1:30-2:30 p.m. - Mano Le Tough and The Drifter
2:30-3:30 p.m. - Man Parrish
2:30-3 p.m. - Mickey de Grand IV
3-3:30 p.m. - Totally Enormous Extinct Dinosaurs
6-7 p.m. - Hudson Mohawke
8:30-9 p.m. - Pretty Tony
1-2 p.m. - JT Money of the Poison Clan
2-3:30 p.m. - Black Coffee
5-5:30 p.m. - Funkmaster Flex
5:30-6 p.m. - Otto Von Schirach
Look below for social posts from inside the Red Bull Guest House. And don't miss wall-to-wall coverage of
Ultra Music Festival
, March 27-29, on RedBull.com/Music.