Red Bull Hardline
is back for its seventh edition and has strengthened its status as one of the toughest downhill mountain bike races in the world.
The 2020 fallow year has enabled the event's creator Dan Atherton to add even more gnarly features to the Red Bull Hardline course – a brutal part-downhill-part-freeride track set in the heart of the Dyfi Valley, north Wales – which should make this year's event the hardest yet.
Throw in the unpredictable Welsh weather and 30 mountain bikers from across the world and from various MTB disciplines and you've got a downhill race like no other.
The Dyfi Valley is located in Snowdonia, north Wales. This area is very popular among mountain bikers, as it's only a few miles north of Machynlleth and close to Dolgellau, two villages with access to all types of MTB trails and bike parks.
02
What's the Hardline course like?
Take a look at the 2021 Red Bull Hardline course with Bernard Kerr: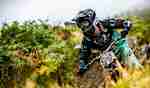 Course preview with Bernard Kerr
The Hardline track – designed and built by
Dan Atherton
and
Ollie Davey
– is a beast of a thing. Snaking its way down the mountain in the heart of the Dyfi forest, the track combines huge freestyle jumps with tricky technical downhill features. This means you need to nail the formula of this course in order to make it down in one piece, never mind win. To do that, riders need to have the skills to handle big jumps and navigate their way through difficult and (usually) damp forest sections.
With gigantic step ups, 65ft [20m] gaps and speeds of up to 40mph [64kph], it's fair to say that the Hardline course is the gnarliest track in the UK – if not the world!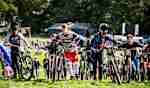 03
What happened last time?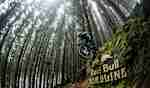 Best of Red Bull Hardline 2019
In 2019, Red Bull Hardline welcomed riders with sunshine and dry conditions – a rarity in this corner of Wales. The track was riding nicely during practise and qualifying, and it looked like fans were in for a fast and furious final.
Some early morning rain on race day added some difficulty to proceedings, but it was near perfect track conditions compared to the washouts of 2017 and 2018.
After some acrobatics from Gaëtan Vigé and Kaos Seagrave – who both pulled backflips during their race runs over the huge step-up jump – it was the Norweigan Brage Vestavik who laid down the time to beat.
Only the final three riders on the hill – Joe Smith,
Gee Atherton
and Bernard Kerr – managed it, and the podium mirrored the fastest qualifiers. His blistering, fault-free run also saw Kerr become the first two-time winner of Red Bull Hardline.
This year there's quite a mixed bag of competitors – from freeriders to pro-downhill riders. The winner will be the guy that combines all these different riding skills to get the perfect flow on the day of the final.
Defending champion Bernard Kerr is going to be tough to beat, and will be looking to make it a hat-trick of wins in Wales. The 2016 and 2019 winner has never finished off the podium and the course seems to really suit his riding style. He'll also have one less rival to battle it out with after
Gee Atherton
had to pull out because of injuries suffered from a crash.
Alongside the regular downhill World Cup racers like
Laurie Greenland
,
Kade Edwards
, Kaos Seagrave, Charlie Hatton and Brendan Fairclough, there are plenty of first-timers and returning riders heading to Red Bull Hardline. The 2017 winner Craig Evans is the pick of a big British bunch, which includes the likes of Matt Hockenhull, Adam Brayton and Joe Smith. When it comes to overseas talent, freestyler
Thomas Genon
will be taking a crack at the gnarly Hardline course, while Brage Vestavik will be bringing some of his Norweigan flair to proceedings.
You can get full coverage of Red Bull Hardline 2021 at
www.redbull.com/hardline
throughout the weekend. Qualifying will be streaming live at 3pm CEST on Saturday, July 24 at that link, as will the finals on Sunday, July 25, also at 3pm CEST.
Red Bull Hardline qualifying times – July 24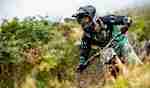 Auckland, New Zealand: 01:00 (July 25)
Red Bull Hardline finals times – July 25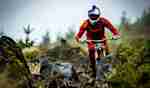 Auckland, New Zealand: 01:00 (July 26)