Red Bull Imagination: Behind the course
© Garth Milan/Red Bull Content Pool
Take a look at what Tyler Bereman and Jason Baker have cooked up for the world's first freeride contest course, launching October 14.
Snowboarders have slopestyle, downhill mountain bikers have
Red Bull Rampage
, skateboarders have the park series, and surfers have the newly introduced wave pool contests. All of these style events allow an athlete to take on a course and express themselves on a distinguished platform to be judged on creativity, style, technical skill, and amplitude. Currently the sport of freeriding doesn't have a distinguished platform, but this October,
Tyler Bereman
and
Jason Baker
at Dream Traxx hope to change that. With
Red Bull Imagination
, Tyler and Dream Traxx are aiming to provide freeride athletes with a platform and course that allows them to express themselves and be judged on similar criteria as their action sports counterparts. This course took some serious thought and gained inspiration from
Supercross
tracks, natural hillside freeriding, and the courses of FMX past. In the words of Tyler himself, "Trying to take a blank canvas here in Kansas and figure out how everything was going to come together wasn't going to be easy." So let's dive into it before Imagination premieres on October 14.
Watch Episode 1 of Red Bull Imagination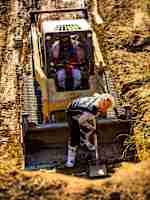 It could be argued that creativity is the backbone of motorcycle freeriding. So when the course was in design Tyler and Dream Traxx knew some of the most important features would be ones that the riders could do innovative and imaginative tricks on. With this in mind, a 40 ft storage container was brought in and jump faces were added to the front and each side. This would allow riders to manual (wheelie/nose-wheelie) or wall ride each side. Also, a dirt halfpipe was added to the course - a feature that has rarely been seen on any course in dirtbike history. How riders will attack these two features is yet to be seen, but each of these will undoubtedly be crucial to grabbing points in the realm of creativity.
Following creativity, a freerider's next best attribute is their style. While style may only be 25% of the course considerations, it's everything in the mind of the freerider. So next up, Dream Traxx got to work on adding a few hip jumps and a jib section through the course. These will prove important to keeping the course flowing and allow riders to take an otherwise blank canvas and apply their own personal style to it.
A lot of the technical skill in dirtbiking comes from a Supercross-esque style of riding. To demonstrate that, Tyler and Dream Traxx added in a Shark fin on-off section and a wildcard rhythm section. These two course additions will allow riders to show their technical skill in a Supercross-esque section while still having some options to show creativity that would otherwise be impossible.
Last but not least, and every fan's favorite - amplitude. Style, creativity, and technical skill are impressive, but every fan loves seeing riders risk it all to boot those hundred plus foot jumps. Also, these bigger style jumps are a staple in past FMX events. Tyler knows better than anyone that amplitude plays a big part in taking the sport of freeriding to the next level. So, the Red Bull rider stepped up and worked with Dream Traxx to add not one but two big dog jumps to the course. Also, there was a quarter pipe added to not only test riders in long distance jumps, but height as well. Between two big dog jumps and a quarter pipe it's safe to say that fans will be seeing these athletes go big.
"We got eleven pieces of equipment and four operators, so I've just been giving them my two cents as well as driving the equipment just to move dirt," said Tyler as the build comes to a close on the world's first freeride course. While it's impossible to tell what we'll see from this course starting on October 14th, it's incredible to see the sport of freeriding progress to its own platform. Tyler hopes that giving these athletes a course to show their creativity, technical skill set, style, and amplitude on a world stage will propel the sport of freeriding. He added, "Being able to have a platform outside of social media and creating content where a contest is style and creativity based will hopefully give our sport the legs to run." Needless to say, this finalized course seems like it's the first step in the right direction.
Be sure to download the free Red Bull TV app and catch the moto action on all your devices! Get the
app here
.