Inside the construction of Red Bull Imagination with Jason Baker
© Chris Tedesco/Red Bull Content Pool
Hear from Dream Traxx owner and main operator Jason Baker on his experience designing and constructing the first competitive freeride course in history - Red Bull Imagination.
Since its conception in 2003 Dream Traxx has been; in their own words, "The leading force in the design and construction of motocross and supercross tracks across the world." And they're not lying. From athletes like
Ken Roczen
and
James Stewart's
private facilities to world class events such as X-Games, X-Fighters, and
Red Bull Straight Rhythm
— Dream Traxx has been the industry leader in dirt bike course design. While honing in on the event or rider's specific needs, Dream Traxx has been able to design challenging yet safe courses that have reshaped the mold in the dirt bike industry. So, when it was time to find a designer for the
Red Bull Imagination
course -
Jason Baker
and his team at Dream Traxx were shoo-ins. But just how would they go about designing and constructing the first freeride course on earth?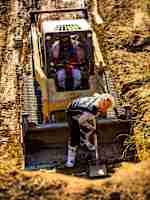 "I've had to pinch myself quite a few times, Jason shared. "I'm very appreciative that Dream Traxx and I were given the opportunity to build this," he said when asked about being chosen to design the Red Bull Imagination course. Being that a freeride competition course has never been designed before, Jason and his team had to turn a blank slate in Kansas into a plan of action. And they did just that. "We took obstacles that a free rider would typically search for and put it into a course," he said. Adding that, "Freeriders are constantly hipping jumps or jumping from one side of a jump to another, so with this course we built very few straight jumps."
From storage containers to rhythm sections, Jason and his team have turned dreams into reality yet again. "I think my favorite part of the track is the hip that goes into the shark fin. Seeing the riders flow on that thing is so cool," said Jason. It doesn't stop there though, even the quarter pipe is unique at Red Bull Imagination. "The quarter pipe is awe inspiring, and to my knowledge we built the biggest dirt landing quarter pipe in existence," he said.
With this unorthodox course design, Jason and his team at worked closely with Red Bull freerider
Tyler Bereman
to make sure everything was up to snuff for the first freeride contest that the world has ever seen. "Being able to collaborate with Tyler has just been huge. Tyler has an amazing imagination and I think what I bring to the table and what Tyler brings to the table compliments each other so well," Jason told us. "Where Tyler and I have a lot of similarity is that he can see what he's able to do on a bike and I'm able to see what I can do with a piece of land."
However, even with the helpful guidance of an experienced freerider like Tyler, there are inevitably obstacles that will arise during any course design. One obstacle for example has been the type of soil here in Kansas. "The most difficult part of putting this together was getting the shapes in the jumps with the type of dirt we have here in Kansas," said Jason. "We had to overbuild, compact, and then cut away the heavy clay we were working with," he added. On top of the soil, daunting time constraints also became challenging during this year's course build. "We had 20 days of building — daylight to dark. I can't thank my guys enough for making this happen," Jason said.
Now with the course complete and Dream Traxx yet again meeting the mark that they themselves have set, Jason has been able to ponder the future of events such as this. "It's really cool sitting back and watching how each one of these individual riders flow on the course," he said adding that, "Everyone involved here in Kansas is like, 'Okay what's next?'"
With that question in mind, it's tough to tell what's next for the sport of freeriding. One thing's for sure though, when it's time to find someone to build the next competitive freeride course Dream Traxx has built a very solid resume. "We've set the bar so high and we're already looking beyond it," Jason said, "I really do think this is the future of free riding and I'm very excited to be a part of the groundbreaking."
Be sure to download the free Red Bull TV app and catch the moto action on all your devices! Get the
app here
.