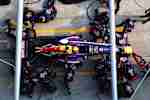 Gone in 1.923 seconds - F1's fastest ever pitstop
© Getty Images/Paul Gilham
We asked Red Bull Racing if a sub-two second stop was possible... then they went and did one.
At the start of the season
Red Bull Racing
set a new pitstop record with a time of 2.05s. Last weekend in Austin they reset the benchmark with a 1.923s stop for
Mark Webber
. How do you become the first F1 team through the two-second barrier? A few weeks ago we asked team manager
Jonathan Wheatley
precisely this question.
Jonathan, how often does the crew hold pitstop practice?
Often! But we don't want to do too much practice because it's important for everyone to retain their enthusiasm and motivation. For instance, when we're at the factory we won't be practicing when everyone's just got back from a race because the guys will be tired.
Are practice sessions about doing the same thing, or do you mix things up?
At the track, practice is pretty standardised; in the factory we try more. We practice the 'set-pieces' – changing a nosecone, dealing with a puncture etc., and we'll try different people, different techniques, even different equipment.
Do you set out to break records or is that counter-productive?
What we're looking for is consistency. I think a record stop just happens on the right day. If the 20-odd people involved in the pitstop are all having a perfect day, then it happens.
What factors came together to allow you to break the record at the start of the season?
It just came together: the guys were very confident going into the race; we had a good talk Saturday night about our targets; the crew were in good shape, and everyone just felt really positive about what they could achieve. We've done similar times since and it's the same story: everyone felt good on the day.
It's been three years since the ban on refuelling and in that time there's been a pitstop technology race. Has that now reached maturity?
I think we're now at the point of seeing diminishing returns. You could design new equipment to shave off a tenth, or five-hundredths of a second, but it's expensive and there's a point at which the resources could be better allocated elsewhere.
What human factors go into getting a stop just right?
The pitstop begins a few laps before, making sure everyone has the normal warnings and goes out with the right mindset. The driver has to stop precisely on the marks with no drama. The gunman have to get on the nut first time, the jack men have to execute a clean lift – very difficult in particular for the rear jack. Basically everyone needs to have a perfect day. Even something like taking the wheel off, it sounds easy but it isn't. If you put all of that together and the driver in absolutely on it with his reaction time, then you can get there.
Ultimately, as things stand now, how fast can you go?
JW: In practice we're capable of doing 1.7s-1.8s stops – but to do that in a race with the noise, the pressure and everything else going on, it's probably unlikely we'll see it.