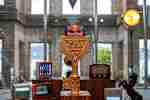 Red Bull Solo Q set to end with a twist, but it'll be back bigger than ever
© Mahmut Cinci/Red Bull Content Pool
The world's best 1v1 League of Legends players will battle for a chance to compete at the 2020 League of Legends All-Star Event next month, before we return for an even bigger tournament in 2021.
2020 has been an incredibly exciting year for
Red Bull Solo Q
, with 79,000 registered players competing in the world's most prestigious 1v1 League of Legends tournament. The need to keep games online, however, has meant a change in the format to conclude the season, ahead of the competition kicking off again in the new year.
Red Bull Solo Q has attracted fans from all over the world, with players representing more than 35 countries; competitors have been battling against each other since April, with thousands of 1v1 duels resulting in 44 victorious Red Bull Solo Q champions from around the globe.
These would have been the players to compete in regional and world finals, pitting themselves against the very best esports athletes. Instead, in a new twist, all Red Bull Solo Q winners will receive prizes for their efforts, including a one-of-a-kind medal and unique merchandise, with the chance to compete in an even more exclusive event up for grabs.
A new ending for Red Bull Solo Q
In place of the planned finals, three Red Bull Solo Q champions from select regions (Europe, North America, South Korea) will be given the opportunity to compete at the official 16-person Red Bull 1v1 Tournament at the 2020 League of Legends All-Star Event, set to include the sport's most exciting pro players.
As always, competition will be incredibly fierce, with only one spot per region at the 2020 League of Legends All-Star event up for grabs. Existing winners from Red Bull Solo Q from the regions above will face off in additional online tournaments to battle it out for one of the three spots, one per region.
Those who make it to the 2020 All-Star event are in for a treat, with the competition comprising 16 spots made up of pro players, veterans and other huge stars from the esports community, along with our three talented finalists. You'll be able to watch all the action on
Twitch
, with the event taking place from December 18 to 21.
Back again for 2021
With Red Bull Solo Q proving an incredible hit – we saw more than three times the number of players sign up over last year's event – it's clear that League of Legends fans are hungry for more.
So while celebrating the successful conclusion to this year's event, it's also great that Red Bull Solo Q will be back again with a bang in 2021 – stay tuned for more news on that front very soon. Will you be taking part?