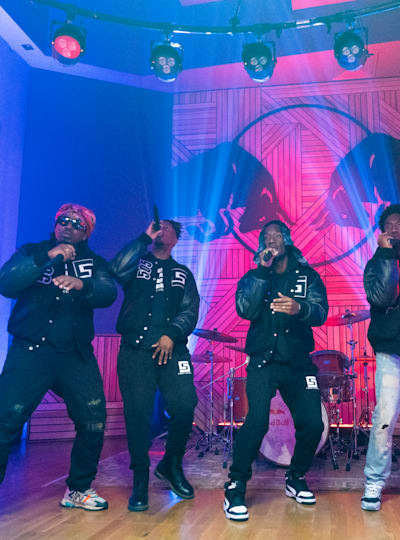 © Steven Hong
Red Bull Spiral Episode 1: Coast Contra
New episodes of Red Bull Spiral will launch monthly on the Red Bull 1520 YouTube channel.
Based on the popular Japanese format,
Red Bull Rasen
, Red Bull Spiral invites 3-4 MCs to Red Bull's Los Angeles recording studio to collaborate on a one-of-a-kind cypher.
Filmed in one continuous take,
Red Bull Spiral
challenges even the most seasoned artists to stay cool under pressure and deliver perfect bars as the camera spins through the studio, capturing every movement.
Watch Los Angeles crew
Coast Contra
kick off the series with their debut episode.
Executing a perfect Red Bull Spiral performance can take dozens of tries. What was it like behind the scenes and how did you guys mentally choreograph what you wanted to achieve?
Ras Austin of Coast Contra: Definitely had to take our time and approach this like a show! It's a challenge, but we wanted to make it as fun of an experience for the viewers as we could!
Going back and rewatching the full episode, what are some of your favorite moments?
Favorite moment is when Taj gets in a certain pocket and everybody starts a rotation in sync with his flow. Super dope moment!
What do you feel each of you bring to the table as MCs? How would you describe each other's flows and the lyrical content you each gravitate to?
Everybody brings originality to the Coast! Love that we don't know what to expect from one another.
One thing for sure is that everyone's flow and lyrical content is always catered to the beat, which is why it's fun to find great production.
Why is freestyling as an artform an important part of your DNA? Who are some of the artists or groups you take inspiration from?
Freestyles keep us sharp and maintain a certain level of hunger. Otherwise, we could get complacent and dull. As far as inspiration, we literally take inspiration from the whole hip-hop pantheon, from Rakim to Kendrick.
It's been almost a year since the release of the "Never Freestyle," which has almost 10 million views on your YouTube channel. How do you feel you've progressed as artists since that time and what's next on the horizon for Coast?
Since "Never Freestyle" dropped we've gotten to travel and soak up a lot of life, so it's expanded each of us. Gotten to touch the people also so we know what resonates with them. So, next on the timeline for Coast is putting together some music that speaks to us and our audience thoroughly!