Five Years Ago: Jumping From the Edge of Space
© Red Bull Stratos
On the fifth anniversary of the record jump, Felix Baumgartner and other key Red Bull Stratos team members relive their memories of the landmark day.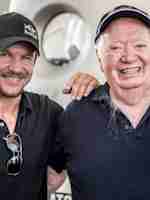 Felix Baumgartner on Red Bull Stratos, 5 years on
In the video clip above,
Felix Baumgartner
,
Joe Kittinger
and
Luke Aikins
share their thoughts on Red Bull Stratos, looking back on the event five years to the day while at the Red Bull Air Race in Indianapolis.
On Oct. 14, 2012, the world was spellbound as the
Red Bull Stratos
project launched a helium balloon to near space, where Austrian skydiver Felix Baumgartner jumped from 127,852.4 feet to become the first, and only, person to break the speed of sound without the protection or propulsion of a vehicle. The project broke numerous records and contributed valuable data to the scientific community. Five years later to the day, Baumgartner and key team members are celebrating at a special Red Bull Stratos exhibition held in conjunction with the season finale of the Red Bull Air Race World Championship at Indianapolis Motor Speedway.
Baumgartner — as well as
Joe Kittinger
(Flight Operations and Safety, Capcom 1),
Art Thompson
(Technical Project Director) and
Mike Todd
(Life Support Engineer) — took time to answer some questions and reminisce on some classic photos from that memorable day.
Redbull.com: Felix, happy anniversary. How does it feel?
Felix Baumgartner
: I think this is amazing. It's like Christmas, birthday and New Year's Eve all at the same time, because it's Indianapolis, it's the last Red Bull Air Race of the season and it's our anniversary, so I'm getting to meet with a lot of the team. It's really cool to see everyone again and share some stories.
Speaking of sharing stories, we have some pictures we wanted to show you. Let's start with this one, which was taken at the suit manufacturer, David Clark Company. Mike, you were responsible for maintaining the pressure suit that kept Felix alive in the stratosphere. Do you remember this moment?
Mike Todd: What we were trying to do was establish whether we could make the suit work. We had a pretty good idea we could, and the David Clark Company was receptive, so we were trying to determine whether he could reach the controls and whether the harness was comfortable.
Joe Kittinger: I was there too, and he did very well. This was his first experience with the suit pressurized, and I was really impressed with how well he did.
Baumgartner: You know, at the time, I was really struggling because I never liked the suit. The suit is a very complex tool, and while it's necessary to survive, it's no fun to wear it — you're kind of locked in your own little world. That was a time when I had a lot of internal problems with myself, mentally, but I couldn't talk to anyone.
Overcoming your issues with the suit turned out to be one of the most dramatic stories over five years of developing Red Bull Stratos. Here's a photo of another challenge: The Red Bull Stratos balloon was the largest ever launched with a human on board, and it took a lot of testing with various sizes of balloons before the final launch.
Kittinger: Balloons are very fragile creatures, requiring perfect conditions for launch, and the critical part is getting inflated. When that balloon took off, a lot of people were extremely happy.
Baumgartner: When we launched the balloon and finally the capsule got released from the ground, I knew we were on the way. We were still at the beginning, but the balloon launch was the first step. Once that was successful, I was a lot more relaxed.
Art, you were the technical project director. What do you think when you see the capsule?
Art Thompson: It's pride for the team, for what we accomplished together as a family — which is what this group really is. This was an effort of people with a passion to accomplish a scientific task. We have a personal bond, and it doesn't matter how far we're stretched around the world, there's a certain pride that what we accomplished was significant to the aerospace industry and inspired so many. It's about all of us together.
With five years to reflect on it, what do you now think some of the mission's biggest accomplishments were?
Kittinger: One of the significant contributions that I think we made was developing features toward the next generation full-pressure suit, so astronauts in the future will have increased mobility. Also, the team proved out a completely new approach to physiological monitoring, which was really a contribution for the scientific community.
Thompson: Over the last five years, what Red Bull Stratos has really shown me is the impact it had on people around the world, to inspire them to do better and be better. We've given talks around the globe and met with educators, and kids come to me all the time wanting to know how to get into aerospace, or how to get into science.
Baumgartner: Everything we accomplished really proves what a small group of people can do. We were very uncertain at the beginning if it was ever going to be successful, because there were so many unknowns that we had to overcome. But now we know that everything you have in your mind can turn into reality if you work with the right people, if you put the effort into it and you go the extra mile.
And of course here's a picture of the big moment, the jump from the capsule.
Kittinger: He was standing there on the shoulders of a couple-hundred team members, a great team of people working for his benefit. I was thinking of all the people and the contributions they made to put him on that step. It was a historic moment because of a great team of people who made it happen.
Baumgartner: That moment was definitely why we all worked so hard. All that effort for five years, all those hurdles we had to overcome. Finally standing on top of the world, knowing that the whole world was watching, was quite extraordinary. Then you take that one step forward and you're on the way, not knowing what to expect. Nobody knew what would happen to a person breaking the speed of sound. But I had to find out, and I will always remember that moment.