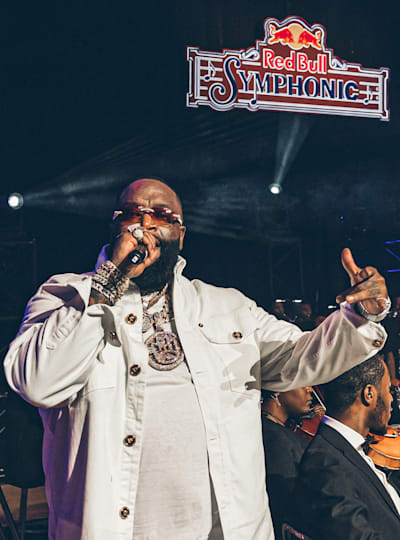 © Daniel Zuliani / Red Bull Content Pool
Red Bull Symphonic Atlanta recap: Rick Ross showed us why he's the boss
Rick Ross and Orchestra Noir gave the sold out crowd at the Atlanta Symphony Hall a night to remember.
Atlanta got suited and booted for the evening of Friday, November 4 to witness hip-hop connect with classical music like never before. Red Bull nearly brought the whole city out to
Atlanta Symphony Hall
for an unprecedented experience featuring rapper
Rick Ross
performing alongside the all-Black ensemble,
Orchestra Noir
, for the North American debut of Red Bull Symphonic,
a live music extravaganza
that pairs a performer with prominent symphony orchestras to give their hits and song repertoire a classical treatment.
Under the musical direction of Orchestra Noir's head conductor and founder
Maestro Jason Ikeem Rodgers
, who was impeccably dressed in white tails, and hosted by Symphony Thompson in a gold evening gown, Red Bull Symphonic kept it classy the entire time while making sure the turn up was too real. It was truly a celebration of Black excellence for the 1,800 audience members in attendance.
The Grammy-nominated, chart-topping boss and best-selling author also known as Rozay took center stage for his hour-long set dripped in a custom pink jacket designed by Hideoki Bespoke and snow white denim. Ross' infectious voice coupled with Orchestra Noir's lush, cinematic arrangements courtesy of Rodgers, Larry J. Smith and Ross' DJ Sam Sneak opened with "Tears of Joy," "Magnificent," "The Devil is a Lie," and "Super High."
The man behind Maybach Music Group and the six-year-old orchestra took everyone down memory lane with a number of his memorable features like DJ Khaled's "All I Do is Win," Meek Mill's "Ima Boss," Jay Z's "FWMYKIGI," Ace Hood's "Bugatti," French Montana's "Pop That," and Usher's "New Flame."
Any other time, Ross, backed entirely by Orchestra Noir's exceptional vibrato, crescendos and accent notes, cranked it up a few notches and got the crowd on its feet with "Here I Am," Hustlin," "9 Piece," "Bag of Money," "Hustle Hard," "B.M.F.," "MC Hammer," "I'm Not a Star," "Aston Martin Music," and "Diced Pineapples."
Red Bull Symphonic had its own share of somber moments in the midst of all of that energy. Ross took a moment of silence for Migos member Takeoff, who was shot and killed in Houston on November 1, during "I'm On One." For the grand finale, "God Did," the Miami-born rapper was joined onstage by
SAINTED Trap Choir
.
Even well before Ross had his moment under the rotating strobe lighting, Red Bull Symphonic started off on a high note. French violinist Mapy set the tone with her medley of hip-hop and island-tinged favorites. Also backed by the 50-piece orchestra each dressed in all-black formal attire, Mapy used her white electric violin to churn out staples by female hip-hoppers (Eve's "Who's That Girl," Lauryn Hill's "Doo Wop (That Thing)," megastars (Beyonce's "Crazy in Love," Rihanna's "Rude Boy," and DJ Khaled's "Wild Thoughts"), dancehall classics (Louchie Lou & Michie One's "Rich Girl") and Afropop (Wizkid's "Essence," Afro B.'s "Drogba (Joanna)." She showcased her chops: hitting some bow hair-splitting slurred notes on Wayne Wonder's "No Holding Back" and playing pizzicato during her rendition of Lumidee's "Never Leave You (Uh Oh)."
The 15-member SAINTED Trap Choir serenaded the crowd for the next half-hour ahead of Ross' performance with its fusion of trap, soul, R&B, hip-hop and gospel harmonies. Led by DJ Fannie Mae and Grammy-nominated Dennis Reed, the genre-blurring group stepped onto the stage in maroon choir robes to a flash mob of F.L.Y.'s "Swag Surfin" while two-steppin' to Soulja Boy's "Pretty Boy Swag."
SAINTED's Sunday morning vibes sliced through some rap favorites (Cardi B's "Bodak Yellow," Megan Thee Stallion's "Cash Shit," Pop Smoke's "Dior," and Meek Mill's "Dreams and Nightmares") and R&B gems (Usher's "You Make Me Wanna," Tevin Campbell's "Can We Talk") before hoppin' on the hit parade between I-20 and crossing over to 285 (Gucci Mane's "Lemonade," Waka Flocka Flame's "O Let's Do It," Future's "Itchin," Trillville's "Some Cut," Crime Mob's "Knuck If You Buck"). The choir also made a quick stop through Louisiana (Boosie Badazz's "Wipe Me Down," Lil Wayne's "Mrs. Officer") just to keep the party going.
It was definitely a good time had by all in the A-Town, shawty.
When Outkast member Andre 3000 declared in 1995 "the South got something to say," perhaps Red Bull Symphonic's ability to expand the range of what Southern hip-hop can do through bridging musical conversations is an example of exactly what he meant.
Red Bull Symphonic's American debut was one for the books.