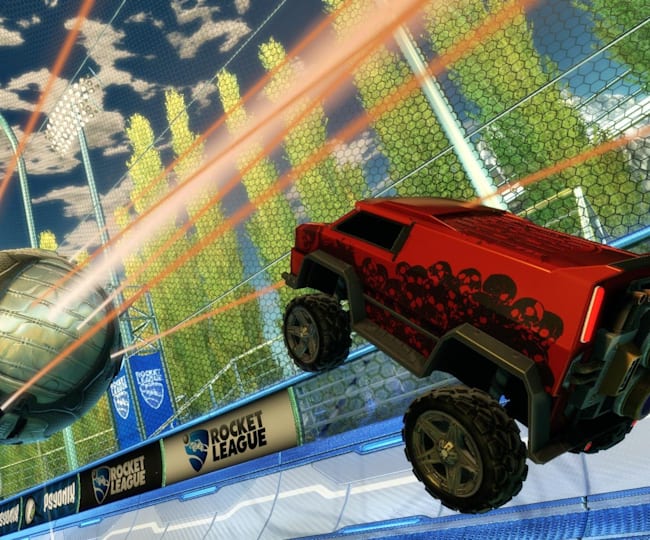 © Psyonix
Rocket League's Champs Fizzle as Playoffs Loom
G2 Esports is out, while a rules dispute has shaken up the EU RLCS standings.
The Rocket League Championship Series didn't wait long to
vault into a second season
, following iBUYPOWER Cosmic's (now G2 Esports's)
championship run in August
, and it's clear that Psyonix and Twitch were able to capitalize on that momentum.
Season two has delivered consistently strong car-soccer showdowns so far, and following four weeks of League Play — with a just-for-fun Midseason Mayhem event in the middle — we're now facing the start of the Regional Playoffs next weekend on Nov. 5-6. And even before they begin, we already have a big story coming out of each region.
In North America, the fall of G2 has sent shockwaves through the scene, surprising casual viewers while affirming pessimists' boasts that their S1 victory was a fluke. And in Europe, a battle over tiebreaker rules implementation has seen a team stripped of their bye to the Grand Finals, surely putting some extra motivation behind their wheels in the coming weeks.
Haven't been following the action so far? Here's a look at where things stand in season two and what you need to know.
The former Exodus team, now playing under the name Orbit, have been on a monster run this season thanks in large part to the dominant play of Garrett "GarrettG" Gordon, who has the highest shot percentage of any player who started all four weeks for his team. While they may have finished fifth/sixth at last season's Live Finals, they've already punched their ticket to this season's final with a dominant 6-1 record that has put them at the top of the table.
Meanwhile, this season's No. 2 team is NRG (5-2), previously Kings of Urban, which finished seventh/eighth last season, with the 5-2 Genesis team close behind them in third place.
The rest of the top six are newer Rocket League trios: Take 3, VindicatorGG, and Revival hold fourth, fifth and sixth, respectively. It's worth noting that all of North America's top three squads right now all made it to the LAN last year, which means that the veterans are generally outperforming the upstarts … with one notable odd-team out.
It's G2 Esports, the former iBUYPOWER Cosmic squad manned by Cameron "Kronovi" Bills, Brandon "Lachinio" Lachin, and Ted "0ver Zer0" Keil. After winning last season's trophy as underdogs, thanks to a late roster shuffle and missing the online finals, they were favored to make a strong run this year — and
certainly seemed confident during our post-victory interview
, as well.
G2 struggled mightily out of the gate, however, and the situation didn't improve enough to make up the difference. The team spent the first three weeks of League Play in last place, not winning a single series until that third week, and then squeezed out another victory this past weekend to wind up 2-5 in series wins — good for seventh overall, but not enough to put them into the Regional Playoffs. Sadly, their Midseason Mayhem win didn't count towards the standings, even if it earned the team $4,000 in the process.
Looking at the results, G2's losses in League Play haven't typically been blowouts — but they were consistently edged out by the competition. Player stats show a significant reduction in shot accuracy: Kronovi made a staggering 58.5 percent of his shots on goal during the season one Live Finals, but his season two League Play goal percentage has dropped dramatically to 28.4 percent (good for 13th in the region).
He's actually pretty even with the NA region's average shot percentage of 28.6 percent in League Play, but then 0ver Zer0 is at 21.6 percent and Lachinio at just 20.3 percent. Assists and saves are also down across the team, and as strong as each player may be, they didn't seem to be in a great rhythm this season with their rotations and playing as a cohesive squad, allowing opportunities for opponents to capitalize on their mistakes.
Perhaps distractions played a role: Kronovi and 0ver Zer0 both relocated during League Play to share an apartment together, and then team members were busy at TwitchCon during another competition weekend. Between heightened expectations and other obligations and changes that have emerged, it may have been difficult to focus and continue their winning ways from last season. The team built a reputation of surprising opponents when it really counted, but that didn't happen this time around.
Northern Gaming and FlipSid3 Tactics, last season's strongest EU teams coming into the Live Finals, hold the No. 1 and No. 2 slots now, respectively, and they're both going to the LAN. In third place in the EU is Mockit Aces, a new squad led by well-known player Philip "Paschy90" Paschmeyer. All three teams share 5-2 records in the EU region after League Play, which caused some controversy and consternation this weekend.
Initially, Mockit Aces was deemed the second-place team after League Play, giving them a bye into the Live Final, while FlipSid3 was third, leaving them to battle it out for LAN placement in the coming weeks. However, that seemed to
go against the Series' own rules
, as rule 2.3.1.2 stated that a three-way tie should be decided by match-win percentage — which would put FlipSid3 in second place with 61 percent versus Mockit's 59 percent in League Play.
Twitch's RLCS general manager, Justin Dellario,
tweeted
that "after a single team is determined ahead of the other two," they revert to rule 2.3.1.1, which says the higher ranking goes to the team that won the battle between the two teams during League Play. However, that wasn't explicitly spelled out in the rules as written prior to League Play (they were amended on Friday), and it appeared that the language used didn't match the interpretation that the RLCS intended.
In any case, FlipSid3 Tactics and its fans were upset, and some viewers tweeted accusations of rigging. In a
measured yet agitated post
, FlipSid3's Dana Kawar wrote, "When tournament organizers can interpret their own rules at will, especially those rules whose language is explicit, and in no way vague, and those interpretations take precedence over the written rules themselves, the integrity of competition and the sport are seriously called into question. This is beyond unfair and unethical, and absolutely against any kinds of sportsmanship."
On Monday, the
RLCS changed course
and agreed that the backlash was appropriate: The rules, as written, should have put FlipSid3 Tactics into the No. 2 slot, so the spots changed and Mockit Aces lost its guaranteed place in the LAN. They'll have two weeks' worth of playoff matches to try and stay within the top four in the EU to reach the Live Finals. Mockit Aces will also have to contend with Precision Z (4-3) in fourth and Red Eye (3-4) in fifth, while Reunited (3-4) — formerly known as Supersonic Avengers — hangs on in sixth place.
We might be seeing some growing pains here in the still relatively young RLCS, whether it's the league sorting out tiebreakers or the reigning champs being humbled by the competition, but the minute-to-minute play remains thrilling. As the Regional Playoffs begin next weekend, we'll see which teams can use their League Play performance as a catapult to launch themselves into the upper echelon of Rocket League greatness.