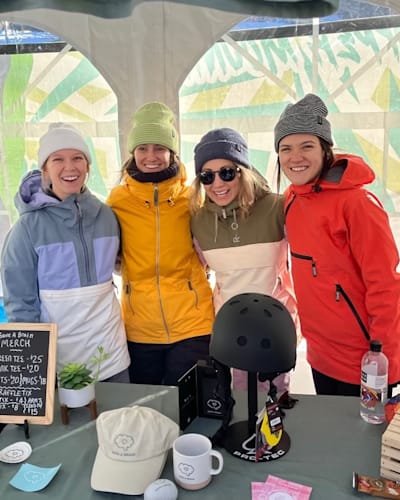 © Save A Brain
Save A Brain: The story of four girls and their mission
Rooted primarily in action sports, Save A Brain is a fresh-to-the-scene non-profit organization whose mission is to focus on the prevention and education of traumatic brain injuries and concussions.
When you hear the word "hustler," your mind probably goes to Jay Z or Beyoncé. Maybe Elon Musk or Steve Jobs if that's what you're into. We think of
Kelsey Boyer
. Kelsey is the founder and owner of Save A Brain, a fresh-to-the-scene non-profit organization whose mission is to focus on prevention and education of traumatic brain injuries and concussions. Rooted primarily in action sports, their main goal is to change the stigma around helmets. "Implementing programming and giving back to the community is what we are currently focusing on because that's all we can do with what we have," Kelsey said. "Mental health is at the forefront of conversations right now, which is great, but we want people to understand that your mental health is your brain health, and to know what to look for in head injuries so you could save someone."
With a love of
snowboarding
originating humbly in the sticks of Pennsylvania, Kelsey made the age-old quest out west to pursue it as a career. She landed in Summit County, Colorado, spending her days climbing the slopestyle competition circuit ladder and nights bartending. In 2016, when Kelsey was 23 years old, she sustained a traumatic brain injury which changed life as she knew it. Things went from easy, fun, and promising to tainted with frustration, confusion, and volatility.
Read more about her experience here
.
Kelsey began speaking about her injury on her personal Instagram account as a means of therapeutic release. "I felt like no one understood what I was going through." Strangers started to reach out, and she realized there was a huge void in education and a community surrounding head injuries. Alas,
Save A Brain
was born. What began as nothing more than an informative, educational Instagram account became a legitimate business, a feat accomplished only with the tenacity, drive, and passion of a genuine hustler. "I wanted to do more. I wanted to give back more than just the Instagram account… I swear every time I put something out into the universe, the universe is like 'here you go.'" Her first step was to find an attorney, and in her words, someone just "tossed one her way." It took about a year to get approved. A year of paperwork, research, and reaching out to any and all resources she could find—which made her realize she could not and did not want to do this alone.
The capable and loving
Save A Brain team
includes
Morgan Scibetta
,
Melissa Riitano
,
Micah Anderson
, a board of directors, and an advisory board of doctors. They say don't go into business with your friends, but in the case of these four, it seems to be a beautiful symbiosis. "All of my friends felt the impact of my injury so I knew they would understand the purpose behind it, which I knew we would need," Kelsey said. "I'm so thankful I picked my team so carefully because there is no way Save A Brain would be where it is today without them." Micah and Melissa were the ones who identified the signs of brain bleeding and took Kelsey to the hospital after her near-fatal crash during a contest. "Micah signed my life away to the doctor," Kelsey says as she reflects on the incident. Deep-rooted in years of friendship, the operation sits very close to home for the four of them.
On any given morning by the time your alarm goes off, Kelsey's likely already halfway down her daily to-do list. You have to live your life by way of to-do lists if you're someone like KB, who—like the rest of her crew—not only runs Save A Brain but also works multiple other jobs. They're a loyal team with a fearless leader and individually each of them probably get more done in one day than most people do in a week, which is why in 2.5 years, Save A Brain has a helmet certification with Dew Tour, is successfully donating helmets to those in need with their Happy Helmets program, is working on implementing change within the WSL, and has an active YouTube page centered around digestible, fun brain education.
Save A Brain's long term goal is to support people who have had similar injuries to go get treatment. Their longer term goal is to someday open up a treatment facility of their own. "We're so new right now, so everything goes a long way. Even if it's not financial, just sharing about us. We just need support right now," said Kelsey. Beyond board sports, Save A Brain wants to expand into football, dirt biking, and really any activity where brain health can be at risk. With the uncompromising work ethic and solid foundation that has already accomplished so much for this team, the opportunities are limitless.
You only get one brain, but if you're lucky enough to spend time with people who share a brain similar to yours, you want to do everything you can to keep them happy and healthy. Save your own brain, save a friends brain, save a strangers brain.
Donate here
.