Snowboard jibbing? What you need to know
© Brian Nevins/Red Bull Content Pool
Read on to learn everything you need to know about snowboard jibbing.
If you've ever watched pro
snowboarders
like
Jesse Augustinus
or
Mikkel Bang
showcasing their skills, you're probably already familiar with
jibbing
, even if you don't know it! Jibbing is jumping, riding, or sliding on top of objects. Snowboarders often jib on boxes or rails, whether they're competing in slopestyle events or just having some fun.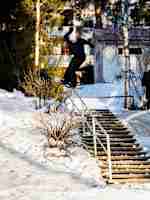 Where Does the Concept of Jibbing Come From?
He might not have invented snowboard jibbing, but Californian surf, skate, and snow pioneer
Tom Sims helped
make this snowboarding trick mainstream. SIMS skateboards were big business, but rather than resting on his laurels, he decided to expand and develop snowboards. In the mid-1980s, he developed some boards and enlisted a small team of riders to market them. Terry Kidwell, Keith Kimmel, Bob Klein, and Mike Chantry began experimenting with the SIMS snowboards. They soon discovered the tricks they'd learned on skateboards were easily adaptable for the snow. Jibbing, a variant of the skateboarding technique of grinding, was among them.
Team photographer Bud Fawcett began sending snaps of Sims' crew to International Snowboard Magazine. That exposure made sure the team's revolutionary skateboard-style tricks, including snowboard jibbing, went global. By the early '90s, there was a massive crossover between the skateboarding and snowboarding scenes. It seemed only natural for these people who grew up skateboarding to follow the lead of Kidwell, Kimmel, Klein, and Chantry and try jibbing and other derivative techniques.
How Does Snowboard Jibbing Differ From Skateboard Jibbing?
Snowboard jibbing is very similar to skateboard jibbing, also known as grinding. If you've ever done grinding tricks on a skateboard, you'll probably pick them up on a snowboard very quickly because you maintain the same stance and movements. However, most people agree snowboard jibbing is easier.
Jumping up onto the jib is a little different, though, as your feet stay strapped into the snowboard. Simply lifting your feet up will bring the board with it and create the jump. Skateboarders can't perform the trick in the same way because the board won't come with them if they lift their feet. Instead, they need to ollie. This trick involves kicking the rear of the board while lifting the front foot. An
ollie
requires more careful coordination than jumping up with a snowboard does.
Practicing the trick is also easier, as snowboarders fall onto soft snow. In contrast, skateboarders practicing jibbing know they'll meet the concrete if they get the trick wrong.
Guide on How to Perform a Jib on the Snowboard
Performing a jib can be challenging, particularly if you've never gone grinding on a skateboard. However, breaking it down into steps can make it easier.
Ride straight towards your jib, without making too many turns or speed checks.

Focus your eyes on the end of your jib or just past it, so you know where you're traveling.

Get up a good moderate speed. The faster you're going, the more likely it is that you'll get to the end of your jib.

When you're close enough to your jib, jump up onto it. As you're strapped into your snowboard, it will follow if you just jump as you would without the board.

Let your momentum take you to the edge of your jib and back to the snow. Keep a neutral stance that doesn't put too much weight on your toes or heels.

Land with your knees bent to absorb your dismount and continue riding forward to prevent a bomb hole at the end of the jib. Take a turn when you're ready to slow and stop.
During these steps, keep the base of your board flat at all times. Avoid using your edges, as you could lose your balance if you catch one. Some people have special jibbing boards with smoothed edges that don't catch.
Start with a simple box in a terrain park. Boxes are wide, so jibbing on them is relatively easy. As you get more confident, choose some rails and other jibs that are narrower and more demanding.
Good Snowboards for Tricks (Like The Jib)
Freestyle boards are the best snowboards for snowboard jibbing and
other tricks
. These boards are light, flexible, and short. Most are twin-tipped, so you can easily focus them traveling forward or in reverse. Whether you're a seasoned jibber or just starting out, you can't go wrong with one of the following boards: Never Summer ProtoSlinger, YES Jackpot, Endeavor Pioneer, Niche Wraith, Burton Paramount, Slash Happy Place, CAPiTA Scott Stevens Pro or Lib Tech Skate Banana.
Jibbing makes snowboarding more exciting, whether you're a keen boarder yourself or someone who enjoys tuning in to
snowboard and freeski events
. If you've never tried jibbing yourself, why don't you give it a try? It's easier than you might think!