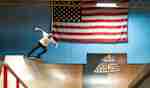 Nestled away in the hills of San Clemente, California,
Ryan Sheckler
's private SC Sand-lot skate park will again play host to the second annual Red Bull Solus contest that's unlike anything else in the skate world. Featuring 17 of the world's best and most excit-ing skaters, each competing in a unique format where they'll never see the other skaters involved. This is a one-of-kind contest that features skaters competing alone—one at a time—with no one else around, besides the selected filmers. This format can be a bless-ing and a curse to a skater all at once. On one hand, skating distraction-free in an empty park all by yourself can be energizing and give the skater the creative freedom to design the line that is unique to their skills. On the other hand, not knowing what other skaters did and how far they'll have to push themselves can be nothing short of mental torture.
Each of the 17 skaters will have one hour to put together their best run; a compilation of tricks within a continuous line. But any skater that can't complete a line is automatically ruled out of winning the judged contest. The winners will be crowned the champion of Red Bull Solus and additional proceeds will go to their local skate shop or a non-profit organization of their choice.
The best part of this year's contest is the introduction of women contestants. There will be individual winners for men and women, as well as two people's choice winners, respectively. A panel of well-respected and veteran industry judges will get to see all the runs in their entirety, but only once so that their score is secured like a live contest. There's no going back and watching replays, just that overall first impression will make or break the skater's score.
The skaters did their part, now Red Bull invites you to do yours. You will help crown the fan favorites of Solus starting September 29 by voting in your favorite runs.