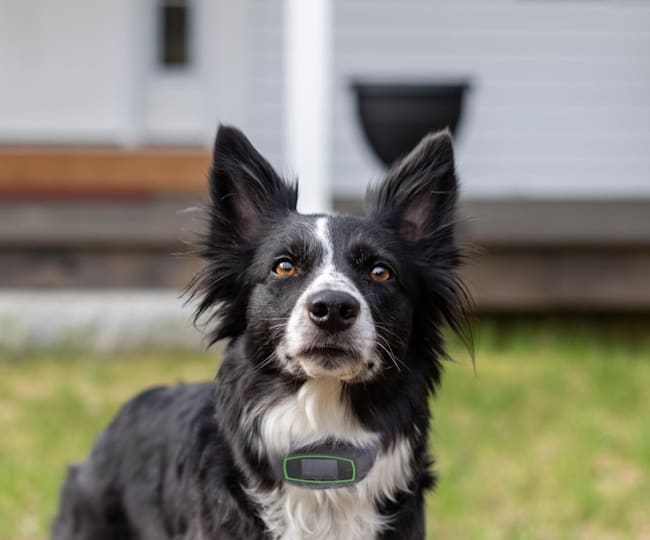 © SpotOn
SpotOn is the high-tech collar helping to keep our dogs safe
We all love walking our dogs, but we don't love chasing after them. SpotOn is the collar that will take every dog owner to canine heaven.
In 2015, American startup OnPoint Systems was formed by a group of former military professionals who'd amassed decades of experience working with technology. With their expertise, the group created the Virtual Fence System with a view of protecting dogs and ensuring that owners could turn any outdoor space into a puppy playground without worrying about their companion going astray.
The SpotOn collar is said to be the ultimate tracking device, with antenna that connect to global satellite networks with seamless reliability. In their past lives, when working in the military and first-response units, technological failures weren't an option for SpotOn's founders, and this is an ethos that's been transferred across to the Virtual Fence System. Through its navigation sensors and use of advanced algorithms, SpotOn boasts levels of accuracy and precision that eclipses other tracking devices. If your dog gets lost, SpotOn will find it.
This technology goes much further than just keeping your dog safe, though. The Virtual Fence System is also designed for fun, and allows owners the freedom to set out parameters for its dog to play in. By combining the collar and smartphone app, dog owners simply have to walk out the 'fences' to create an area that they don't want their pet to leave. The smartphone app can store up to 10 virtual containment areas, meaning owners can easily reuse personal favourites on regular dog walking routes.
But how does a collar tell a dog what to do? Well, should the dog approach the boundary of its containment area, the collar uses both audio and static alerts to warn it that it needs to turn back.
Static correction may sound scary at first, but it's safe and has been used in dog training since the 1970s.
According to SpotOn's website
, the static alert is "surprising to your dog, but not harmful," providing a sensation that "is like shuffling your feet on a carpet and touching a door knob"
We're well aware that pups can be cheeky and disobedient, so if they choose to ignore the collar's warnings and leave the fenced area, then the owner will receive an instant alert on their smartphone, and will be able to track the dog's whereabouts to within three metres. The technology is sophisticated enough that the collar knows when a dog is returning to its designated area, and removes all boundary alerts to encourage good behaviour.
Dogs like to play in mud and water, but the SpotOn team took this into account. Their collar was tested under extreme conditions to ensure maximum durability, and it's earned IP67 waterproof status. We don't know exactly what people with military experience consider to be extreme conditions, but we're pretty confident that the collar has been put through its paces.
In SpotOn's press release, Scott Sterling, president of OnPoint Systems, explained the importance of the SpotOn system, saying, "Today, pets are viewed as family members and our primary objective with this product is protection. We want our pets to come with us to work, play with us in the backyard, go on outdoor adventures, and visit the homes of friends and family. With the SpotOn Virtual Smart Fence, we turn the world into your backyard."