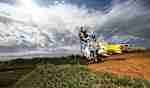 Super Slo Moto James Stewart Bubba Scrub
No riding technique has revolutionized modern motocross like the Bubba Scrub. When
James Stewart
hopped on the pro scene in 2002 at a ripe 16, he brought with him enough youthful exuberance to shame a Justin Bieber concert. What's more, it showed in his riding. Stewart was always an animated rider, moving all over the bike when he was on the track.
During his early years as a pro, he developed a technique of throwing the bike sideways on the face of jumps, which allowed him to hit the jumps with more speed while at the same time staying lower than other riders. This ultimately allowed him to put power to the ground more quickly. What became known as the Bubba Scrub not only helped lap times, it also looked awesome.
Today, it's virtually unheard of to spend a day at the track without seeing some young guns practicing their scrubs. James Stewart has been absent from the professional motocross scene in 2015, but evidence of his impact on the sport is on every track during every lap of Supercross and the AMA Pro Motocross Nationals. Every great rider utilizes the scrub to preserve speed in hitting jumps. Still though, there is nothing quite like an
authentic Bubba Scrub
.
In this first intallment of
Super Slo-Moto,
we enlisted the help of the sport's most influential rider of the modern era to break down the Bubba Scrub at his home track in Haines City, Florida, all for the eager lens of a high-speed camera to capture it all. So study up on your scrubs, and remember, yours probably won't look like this at first.