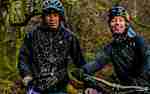 DH racer Tahnée Seagrave talks hitting the right formula for success
When it comes to racing World Cups, athletes give it their all, but sometimes it takes a little bit more to get over the line and win. Tahnée Seagrave explains the adjustments she made to be a winner.
Since taking her first
World Cup win in Leogang
back in 2017, the British rider has racked up a further six race wins on the UCI series. A World Cup overall series win alludes her, but it hasn't been for the want of trying.
Rob Warner caught up with Seagrave at her base in Llanfyllin in North Wales during a period of downtime before the 2020 season for his new
Rob Meets
series. Watch that meeting of minds in the video above to see Warner and Seagrave discuss what it's like to follow in
Rachel Atherton
's footsteps and beat her, how she found the right formula for success, plus they review some of Seagrave's past accomplishments.
Be sure to download the free Red Bull TV app and catch the music action on all your devices!
Get the app here
.
Family and the benefits of home comforts aren't too far behind in things that have been important in the development of Seagrave's career and her dad, Tony, also makes an appearance in this Rob Meets.
Want to know how Tahnée typically spends some of her time off-season? Read on below for that insight. It takes a lot of focus and hard work, but that doesn't always have to come at the expense of good times and great cake.
A regular start to the day for 'T', as she's known to her friends, begins with poached eggs, bacon and avocados, as those of you that follow her
Instagram account
will have seen.
#poachwars
is something that her coach, Chris Kilmurray, started in order to ensure that the athletes he trains have a good breakfast every day. He knows that creating something competitive would help the riders to become involved and keep eating healthily.
Tahnée Seagrave – Downtime
Coach Kilmurray regularly puts Tahnée and her FMD Racing team-mate and brother, Kaos, through their paces at Harris and Ross in Manchester, England. Harris and Ross is the go-to training facility and physio centre for some of Red Bull's top European athletes. While working with them to develop the core strengths that every successful mountain biker must possess, Kilmurray tracks their performance and monitors progress throughout the year.
Tahnée likes to mix up her training regimen by throwing in regular skatepark sessions on the hardtail bike. "I never really used to do any of it to be fair, but it's been really helpful with my skills," she admits. Joined by Kaos and Trek Factory rider Kade Edwards, they can often be found shredding the skatepark at Ramp One in Warrington, a town close to Liverpool. With a love of trying new things, she's also tested out her skills on a skateboard.
A little-known fact about Seagrave is that she has a sweet tooth. One of her favourite things is to go and get cake. The Bay Tree Vintage Tea Room in Welshpool, near her home is her preferred destination. "I'm pretty sure I eat chocolate every day – people underestimate the power of cake, especially chocolate cake."
These days, there's never much time for rest in Tahnée's off-season. Inspired by Kaos and Kade's insatiable thirst to ride and have fun on and off their bikes, uplifting with friends is one of the main weekend activities.
I now ride my bike so much more and have found a new passion for it