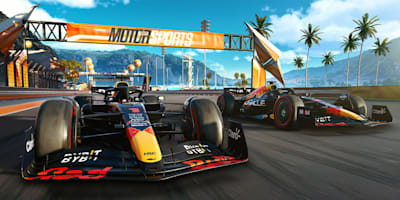 © Ubisoft
The Crew: Motorfest adds a garage of exclusive Red Bull vehicles
There's quite the lineup of vehicles at The Crew: Motorfest, including some exclusive Red Bull racers. Let's take a peek at what you'll expect to see in-game.
The Crew: Motorfest is nearly here, and with a garage of more than 600 different vehicles, it's sure to be a car enthusiast's dream. There are a few special vehicles with Red Bull liveries and even some straight from the Red Bull Racing factory peppered throughout its roster that could shift those excitement levels to an even higher gear. Let's take a look at them, starting with some returning favorites from The Crew 2.
Deep dive into the making of The Crew Motorfest by watching the video in the player below:

15 min
The story behind The Crew Motorfest
See behind the scenes and deep dive into the making of the new game by Ubisoft Studios, The Crew Motorfest.
2018 Peugeot 3008 DKR Maxi
From the Rally Raid category, the 2018 Peugeot 3008 DKR Maxi. This is a French offroad competition-based car that was specifically designed to win the Dakar rally – which it most certainly did when
Carlos Sainz
and co-driver Lucas Cruz overcame drama, penalties and the elements to hoist up the trophy that year.
01
2010 Ford F-150 SVT Raptor Evo 2
An offroad staple, the 2010 Ford F-150 SVT Raptor Evo 2 is coming back to The Crew. The F series of Ford trucks have been in production since 1948, making it a true American classic. The Raptor Evo 2 takes itself very seriously, coming equipped with a powerful 6.2L V8.
Another indispensable Rally Raid icon is the Proto Buggy. While Proto is a fictional company, this rendition of a Buggy has all the typical hallmarks of one, begging you to go offroad and fly over any and all bumps and ridges.
The 2015 KTM 450 EXC is a motocross bike that comes equipped with a 450cc single-cylinder, liquid-cooled, fuel-injected 4 Valve/SOHC 4-stroke engine – gasps for breath – capable of developing the same 52 horsepower as the rally version. The 2015 Red Bull KTM Factory Racing riders Ken De Dycker, Tommy Searle, and
Tony Cairoli
pushed it to the limit during that year's FIM Motocross World Championship, and you, too, can use it to tackle challenging terrain on two wheels.
04
2017 Audi S1 EKS RX Quattro
Moving over to the Rallycross category, we have the 2017 Audi S1 EKS RX Quattro, made famous by
Mattias Ekström
. Built to compete in the FIA World Rallycross Championship, it's equipped with a 2L inline-four turbo engine capable of producing 580 horsepower at 930 revolutions per minute.
Also, we have the 2017 Ford Fiesta WRC in the Rallycross category. As the name suggests, this Fiesta was built to compete in the World Rally Championship. Driven by
Sébastien Ogier
and Julien Ingrassia, it won when it debuted at the 2017 Monte Carlo Rally. It then went on to win five times in its first season – with Sébastien Ogier and Julien Ingrassia delivering one more, two for
Ott Tänak
and Martin Järveoja, and one for
Elfyn Evans
and Daniel Barritt.
06
2017 RB13 and 2018 RB14
Now, onto the big boys, the 2017 RB13 and 2018 RB14 Formula One cars are set to return. Both have top speeds of 211mph and were featured in the Alpha Grand Prix category of The Crew 2.
Daniel Ricciardo
and
Max Verstappen
drove both in their respective Formula One World Championship years, and both placed 3rd in their year's World Constructors' Championship. Red Bull produced a special Disruptor Edition of the 2018 RB14, with a blue-black-white livery, which will also be coming to The Crew: Motorfest.
Now it's time for the newcomers to The Crew franchise:
After a year's delay due to COVID-19, the 2022 release of the RB18 is part of the new generation of F1 cars designed for closer racing and more action. Differences can be seen in places like the rear wing, which is now curved to create an airflow that pushes air upwards, minimizing instability for any following cars. However, you'll be able to drive Max Verstappen's championship-winning car outside of its element on the terrain of your choice.
The 2022 KTM RC16 will be making its debut in The Crew: Motorfest. Originally a prototype designed to race in the 2017 MotoGP season, it has since been iterated on with a completely redesigned chassis. This 2022 model earned the Red Bull KTM Factory Racing team a second-place finish in the teams' standings during the 2022 MotoGP World Championship.
09
2020 AF Corse Ferrari 488 GT3 Evo
Last but certainly not least, the AF Corse Ferrari 488 GT3 Evo 2020. The turbo-engine 488 GT, driven previously by current F1 Alpha Tauri stand-in driver
Liam Lawson
, former Red Bull Racing driver Alex Albon, as well as current Formula E racer
Nick Cassidy
, is one of the most successful Ferrari models in its legendary history.
Expect to see these Red Bull icons and more when The Crew: Motorfest accelerates onto the racing game scene on September 14, 2023.