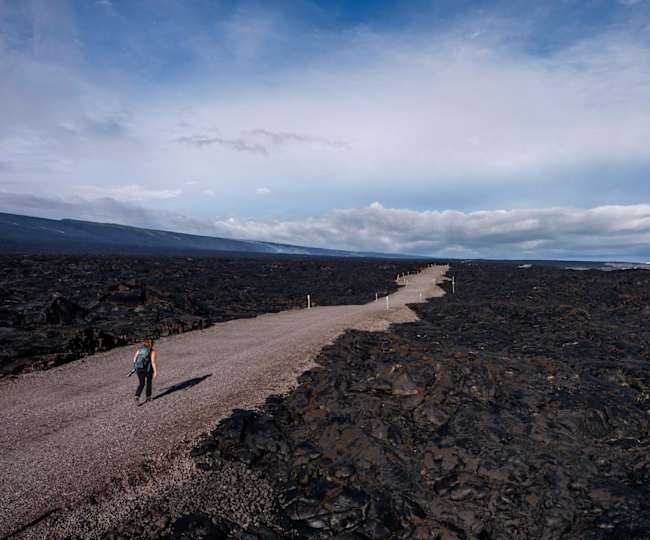 © Jonathan Irish
8 Unusual Adventures In Our National Parks
From lava to glaciers, sandboards to SUPs, here's how to up your adventure game in America's National Parks.
One of the reasons we cherish America's National Parks is that they provide us with a place to go play outside…away from work, away from chores, with the ones we love, in some of the most unique and wonderful natural environments anywhere in the world. They also allow us to have new experiences and, in some cases, wild adventures that we never even knew existed.
While exploring all 59 of the U.S. National Parks during 2016, we had a countless amount of amazing escapades. But here are eight of the most unusual adventures we experienced in the American wilderness.
8. Glacier camping in Alaska
If you've never been backpacking across a glacier, America's largest national park is an epic place to take it on. Long days of challenging hiking across glacial rocky moraine are rewarded with a sound night's sleep atop the Kennecott Glacier in Alaska's Wrangell St. Elias National Park & Preserve. At night you can rest your tired head beneath dark, starry skies with nothing but a sleeping bag between you and remnants from the last Ice Age, while wilderness dreams dance through your imagination.
7. Sandboarding the Great Dunes
Gliding down massive sand dunes at the foot of the Rocky Mountains has to be one of the coolest adventures in all of the parks. It's a lot like sledding in the sense that you feel free as a bird while flying down mountains of sand with a grin plastered across your face. Simply pick up a board at the nearby Great Sand Dunes Oasis, schlep it to the top of the hill of your choosing, wax it, find your footing and take off — you'll soon be experiencing the best of the Great Sand Dunes in one of Colorado's coolest national parks.
Exploring the underground is, as it should be, an otherworldly experience. At Mammoth Cave National Park in Kentucky, visitors can travel into the depths of our planet and explore the world's longest mapped cave system. The park offers a six-hour, six-mile ranger-led Wild Cave excursion, bringing visitors into the darkest corners of Earth's mysterious subterranean atmosphere while navigating tight spaces in almost complete darkness…it doesn't get much more unique than that.
5. Hiking on Arctic sand dunes
Kobuk National Park in Alaska is the least-visited park in the system, yet is home to one of the rarest features on Earth: Arctic sand dunes. With tundra and spruce trees in the far distance, you'll find yourself among a most beautiful backdrops in complete isolation where you can hike upon unadulterated Earth completely free of people, aside from those you traveled with.
4. Snorkeling an underwater trail
Virgin Islands National Park is known for its incredible snorkeling — you can swim alongside graceful sea turtles, sting rays and tropical fish that are as colorful as the Caribbean itself. One of the premiere spots is a tropical paradise at Trunk Bay Beach, where you can find an underwater snorkeling trail with markers guiding you to important spots in the coral ecosystem. A wonderful way to spend a day in the tropics.
This is, without a doubt, one of the best places in the world to get up-close and personal with coastal brown bears in their natural habitat. At the Silver Salmon Creek Lodge on the Cook Inlet in Lake Clark, Alaska, you'll team up with bear naturalists and field experts who have been observing the bears in the area, season after season, for decades. You'll be awestruck when standing in the presence of brown bears — boars, sows, juveniles and cubs — striding beside you on their way to feed on the salmon runs.
2. Hiking over a lava flow by the sea
At Hawaii Volcanoes National Park on the island of Hawaii, you can hike across an active volcano that erupts into the Pacific Ocean. Crossing hardened lava with steam rising from its cracks is fascinating by itself, but the real reward is at the end of the five-mile fire road trek. There's an overlook where you can see the dramatic effects of hot lava connecting with the cooling Pacific Ocean, spouting enormous bursts of steam into the blue sky.
1. Stand-up paddle through icebergs
Bear Glacier in Alaska's Kenai Fjords National Park is one of the few places in the United States where you can glide through icebergs on stand-up paddleboards or in sea kayaks. Harbor seals dip in front of your watercraft and nip at its rudders as they peer on with curiosity, while glacier ice calves in the background, adding a soundtrack to your journey. After a full day of exploring, set up camp with Liquid Adventures on the rocky beach near the coastal town of Seward and watch bald eagles soar in and out of the cove.