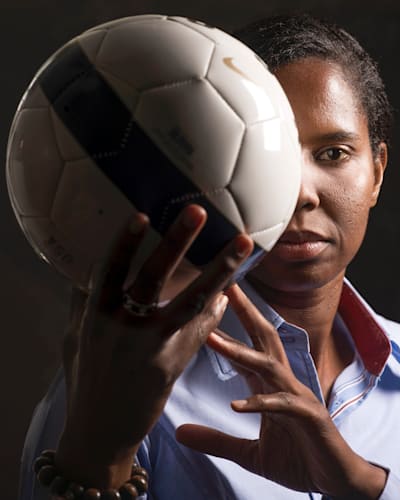 © Getty Images
Briana Scurry was a legendary goalkeeper for the U.S. women's national soccer team, but after a traumatic brain injury, it turns out the greatest save she ever made was saving herself.
At the peak of her career, Briana Scurry was the best goalkeeper in the world. Known for her athleticism, her not-so-secret weapon was her mental toughness, the intensity of her focus. (U.S. national teammate Brandi Chastian once described Scurry's game face as "lasers coming out of her eyeballs.")
That winning combo of physical and mental power took Scurry to two Olympic golds, the U.S. Soccer Hall of Fame and a legendary 1999 World Cup win: Her full- stretch save in a PK shootout set up Chastain to deliver the winning goal against China, rocketing the team to stardom and boosting the profile of women's soccer worldwide.
Those are the public victories. But Scurry notched another major win, a private one—and it was a true lifesaver.
By 2010, Scurry had been playing soccer for close to three decades. She was 38 and knew her playing days wouldn't last forever, but she hadn't yet planned what would come next. After serving as an alternate at the 2008 Olympics, she'd signed with the Washington Freedom of the Women's Professional Soccer league, a precursor to today's National Women's Soccer League.
On April 25, 2010, Scurry took her place on the field, ready as ever to protect the net. She had no way to know that it would be her last match. About 35 minutes in, a shot on goal came from her left; she veered and bent to scoop the attempt. As she smothered the ball, an opposing forward's kneecap connected hard with her right temple. Scurry never saw it coming.
"I knew when I came off the pitch that there was something really wrong, but at the time I didn't realize it was career ending," she says today.
What followed was more than three years of self- described hell as she dealt with the fallout from a traumatic brain injury— though she didn't realize at first that's what it was.
Soldiering through doesn't work with a brain injury. That's part of what I'm trying to teach people.
Scurry's existence transformed into one of pain management and day-to-day survival. Always an optimist, she was suddenly struggling with depression and debilitating headaches. She withdrew into herself, becoming someone she didn't recognize. Someone who used Vicodin and alcohol as relief. And she found her thoughts turning ugly, toward suicide.
"We're talking about some real demons, real dark, no-light-coming-through, black hole kind of stuff," says Scurry, who is now 50. "It was important to me, as part of my legacy, to share that with the world." In her memoir My Greatest Save (out on June 21), Scurry takes a no-holds-barred approach to telling her life story. She wants readers to know that if they're struggling, they aren't alone—that she understands because she's been there, too.
Head injuries are often invisible—no bruises, bandages or casts—and they become invisible in another way when we fail to talk about them. Despite her close bonds with old teammates, Scurry never reached out for help.
"This is sad, but I was somewhat ashamed, almost as if it was my fault that I wasn't better yet," she says. She'd always thought of herself as a warrior on the field, but that warrior mentality—key to success as an elite athlete—in a way became detrimental. "Soldiering through doesn't work with a brain injury. That's part of what I'm trying to teach people."
Yet she never gave up on her fight to get better. A judge approved her worker's comp claim, but lawyers for the team's insurance fought it. The doctors they provided insisted nothing was wrong with her. Never mind the headaches, the personality change, the sudden inability to remember. As bills mounted, Scurry began to feel desperate. So desperate, she eventually pawned her gold medals.
A friend connected Scurry with a PR exec who got the media interested in the story of how a living sports legend wasn't getting needed medical care. Suddenly, the path to treatment cleared. More than three years after her concussion, Scurry had cutting-edge surgery to repair the damage to her occipital nerves. When she awoke, the pain was gone. And she was able to get back to being herself.
The injury may have ended her career, but it started a new chapter in her life—one with a happy ending: Scurry and the PR exec fell in love and married in 2018.
If she's not relaxing in their backyard or in the gym (her "happy place"), these days you might find Scurry at the White House advocating for equal treatment for women players, or spreading awareness about concussions at one of her many speaking engagements. You might even see her onscreen—she starred in this year's limited-release film High Expectations, playing the head coach of a men's U.S. pro team. In real life, MLS has never had a woman head coach; that's the kind of thing Scurry pushes to change.
And her gold medals? Safe and sound. Scurry's wife helped her buy them back.