BMX Street & World Super Power in Washington, D.C.
© Andrew White
See how the "Three Day Metro Pass" trip to the seat of US political power unfolded.
Washington, D.C., is the epicenter of global politics, where movers continually reshape the policies that govern us. Somewhat of a sleeper city in terms of BMX coverage over the years, D.C. probably doesn't stand out as a destination, which is exactly why we chose to explore it for the latest edition of "
Three Day Metro Pass
."
Joining this trip were Matt Miller, Tony Hamlin, Chad Osburn and Jordan Hango.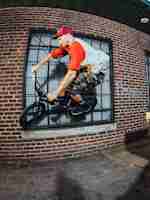 3 Day Metro Pass — Washington DC
Relying on only a three-day pass for the Washington Metro system and our bicycles, we saw what seemed to be a massive array of spots. With decent weather, a good crew in tow and a location that kept our interest piqued, our experience of D.C. couldn't have gone any better.
Sign up for our
newsletter
to get our top stories delivered right to your inbox.