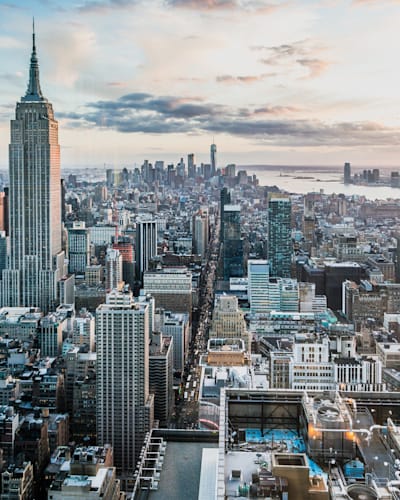 © Photo by Sam Trotman on Unsplash
Top 5 outdoor music venues in New York City
Whether it's for spectacular views or a storied history, these are our picks for the top 5 outdoor venues in New York City.
The
Red Bull BC One World Final
is a one-on-one breaking competition where some of the best dancers, clad in their finest, showcase their skills to the freshest hip-hop music.
Judges like FaBGirl
know exactly what they are looking for, and the criteria to win are not easy. "For technique, I'll be looking at your dexterity, fine motor control, degrees of difficulty, and dynamics about the use of directions, rotations, speeds, and shapes," she said.
The Top 5 Outdoor Music Venues in NYC
The
2022 Red Bull BC One World Final
takes place at the Hammerstein Ballroom in New York, one of the many celebrated venues the city has to offer. Topping our list of the best in the city are the venues that are fully outdoors.
If you're looking for a cool spot in Manhattan to see some great names, look no further than
Pier 17
down near Manhattan's Financial District. It's located in the South Street Seaport area, which is a short walk from Fulton Street station. You can see lots of popular acts that have included Franz Ferdinand, Jason Mraz, Ke$ha, New Found Glory, and Dashboard Confessional. It's one of the most convenient and fun venues to get to for those who live in Manhattan. And since it is so close to the Brooklyn Bridge, there is a great view of the skyline.
Location: Pier 17, 89 South Street NY, NY 10038
02
Central Park's SummerStage
A summer institution for nearly 40 years,
SummerStage
has been a great outdoor venue that provides a fun experience in the most central place of NYC,
Central Park
. Another thing that is great about it, is that it's typically free to see a show here. The names range from smaller artists to bigger artists. Last year's acts included CeeLo Green, The Metropolitan Opera, Barenaked Ladies, and Herbie Hancock. SummerStage has also expanded its program beyond Central Park to many parks around the greater NYC area. So whether you are looking for hip hop, jazz, indie, or salsa, there is potentially an option in a park near you.
Location: Rumsey Playfield in Central Park, E 71st St and East Drive, NY, NY 10021
If you're looking to listen to some classic music in a truly iconic venue, just head to
The Naumburg Bandshell
in Central Park. Not far from SummerStage, you can find something that looks like it should be sitting in Rome. The Naumburg Bandshell is one of the oldest music venues in New York City, where Dr. Martin Luther King Jr. delivered a speech and a eulogy for John Lennon. The venue is celebrating its 117th year of providing free classical music to the public. So put on your favorite shorts, your college professor glasses and grab the most expensive Starbucks latte you can find because it's time for some free classical music with nothing between you and the sky.
Location: South of Bethesda Terrace between 66th and 72nd streets, NY, NY 10019
The Elsewhere
, located on Johnson Ave in Bushwick near the L Train stop, is a multi-venue operation that includes two music halls and a hip rooftop. While typically a bar, the rooftop often converts into a music venue to host bands that only the coolest kids in Brooklyn have on their Spotify playlists. So if you're the type that knows all the bands your parents have never heard of, The Elsewhere Rooftop might be just the place for you.
Location: 599 Johnson Ave, Bushwick, Brooklyn, 11237
05
Northwell Health at Jones Beach Theater
Jones Beach Theater
, currently known as Northwell Health at Jones Beach Theater, is one of the best places to hear music and feel the ocean air. It's located around an hour from NYC by car, obviously depending on traffic. But if you have the wheels, this could be a cool night out for you and your friends. The venue has hosted huge names over the years, which is cool because the venue only has 15,000 seats. Performers have included Jimmy Buffet, Counting Crows, Kings of Leon, and these are just the ones I've seen personally. If the weather is good, I highly recommend a trip to Jones Beach Theater.
Location: 895 Bay Pkwy, Wantagh, NY 11793
If you're in New York, there is no shortage of unique venues to hear great music, but don't limit yourself to the ones with a roof over your head. And don't miss
the livestream
of
Red Bull BC One World Final
on November 12th.
Get ready with
this playlist
, and let this collection of funk, rap, and hip-hop energize you.