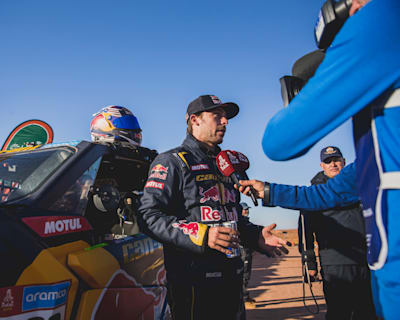 © Flavien Duhamel/Red Bull Content Pool
Start speaking the language of the Dakar Rally with our handy guide
New to the world's most brutal rally? Decipher the bivouac chatter with the hidden meaning behind the Dakar's most common comments.
For anyone approaching the
Dakar Rally
for the first time, the task can be a little overwhelming. The two-week odyssey across desert dunes is a race like nothing else out there. As well as new sounds to hear –
such as the whirring engine of the Audi RS Q e-tron E2
– there's also an entire Dakar language to tune your ear to.
So before taking a trip to this foreign land, learn the meaning of the stock Dakar phrases below. Keeping an ear on what competitors say will help you to stay on pace as the bivouac shifts through the desert.
"There was a lot of nervous energy in the air this morning"
They say that when one Dakar finishes, the next one begins. So when the two-week rally is over, the next 50 weeks of the year is spent preparing for the next trip to the Dakar. So you can imagine there's a few butterflies in the stomach on the start line of Stage One. You want to make sure an entire year's worth of hard work counts for something.
"You never know what will happen with a completely new vehicle at the Dakar"
A good motto to take to the Dakar is 'expected the unexpected'. Out on the course you're subject to a mix of surfaces, each terrain more perilous than the last. Add in shifts in weather conditions, fluctuating from baking heat to stinging rain. It's tough out there but at least you can rely on your trusty machine. Unless of course you're bringing a completely new vehicle to the Dakar. In that case, you better keep your hands on the handlebars or steering wheel with your fingers crossed.
"The race wasn't there to be won today, but you could have thrown it away"
A rally of 5,000km, spread over 14 timed special stages is clearly a marathon, not a sprint. Therefore the number one priority of every competitor on each stage of the Dakar is to reach the finish line. If you can grab a stage win that's great, but what's crucial is staying in the game. In short, play it safe where possible.
"Today we had two punctures, a third would have put us in real trouble"
You won't hear a biker saying this; their rally mousse tires specifically made for rally-raid don't get punctures. However, all four-wheel categories at the Dakar run the risk of punctures. The car class is limited to carrying two spares, so if you get three punctures you have a serious problem. That's why after picking up two punctures on a stage, drivers will slow things right down and bring their car to the finish line in 'survival mode'.
"Unfortunately we spent the day eating the dust of the vehicle in front"
You can't race the Dakar and not expect to eat a little dust. However, since 2005 every vehicle competing in the rally has been equipped with a Sentinel. This clever piece of kit warns riders when they are within 200m of another vehicle, and therefore assists with safe overtaking moves. It's particularly helpful in low visibility conditions, such as the thick dust experienced during many Dakar stages. Situated beside the navigation panel or on the handlebars, it beeps and flashes to alert riders. So there's no excuse for not pulling over and letting a quicker competitor past.
"We will start in a good position tomorrow"
The consolation for having a bad day at the Dakar is the favorable starting position it gives you on the next stage. The idea here is that there will be nice clear tracks to follow so you can go flat-out rather than having to use your navigation skills. You just have to trust that anyone you catch up with will be paying attention to their Sentinel. Another bonus of having a bad day, you might even get to sleep an extra hour due to starting later than the frontrunners.
"Today I opened the stage"
This statement is in stark contrast to the optimistic quote above. Opening the stage has many drawbacks. You leave the bivouac before your rivals, so everything's a bit of a rush that morning. The first biker on the stage is normally on his steed by 6am, sometimes as early as 4am. Then comes the start of the stage; for a biker this means a sea of pristine, untouched desert sand. With no tracks to follow they must pay very careful attention to the roadbook – getting lost could mean their race is run.

9 min
Welcome to Dakar baby!
A day in the Dakar life of Seth Quintero as the 20-year-old tunes his body and his buggy to chase victory.
"I [or We] ended up getting lost, that cost us a lot of time"
This can mean one of two things. If a biker says it then they are owning up to a navigational error that saw them lose the track and cost them time. If a car driver says it, it can mean something quite different. Sitting beside the driver in each car competing at the Dakar is a co-driver. The co-driver's main responsibility is to plot the car's route through each stage. So if the car gets lost, it's on the co-driver.
"We've still got thousands and thousands of kilometers to go"
Even when you have a terrible day at the Dakar, if you can dig in and get to the finish line then you'll find everything will look brighter tomorrow. In a rally measuring 5,000km there's plenty of opportunity to claw back any time you lose. On the other hand, remember this – if things are going badly at the Dakar, they can always get worse.