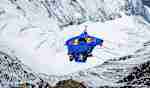 Altitude B.A.S.E. Jump - Valery Rozov
Sixty years since Edmund Hillary and Tensing Norgay made the first ascent of Mt. Everest, the world's highest mountain has attracted some of the world's most extreme athletes, who have skied, snowboarded and paraglided off the mountain. But no one has ever BASE-jumped -- until now.
In early May, Russian athlete
Valery Rozov
, 48, leapt from an altitude of 23,687 feet off the north side of the Himalayan mountain to acheive the world's highest BASE jump. "Only when I got back home did I see how hard it was for me both physically and psychologically," Rozov said after completing the feat.
The ascent began on the Chinese side on the famous north route. Rozov had selected a spot for his leap at an altitude of 23,687 feet. It took him four days to climb from base camp to the jumping location, assisted by a team of four sherpas.
At precisely 2:30 p.m. local time on May 5, with temperatures at zero degrees Fahrenheit, he jumped. Because the cliff at the top was not very high, the initial moment in the rarified high altitude air was extremely precarious.
Rozov needed more time than usual in the thin air to transition from freefall to flying. But after that he flew for nearly a full minute at speeds of about 125 mph down the north face before landing safely on the Rongbuk glacier (19,521 feet).
Rozov is no stranger to spectacular stunts. In 2009 he jumped into an active volcano on the Kamchatka Peninsula in Russia's Far East. In 2010 he leaped from Ulvetanna in Antarctica and in 2012 he jumped from 6,420m from Shivling (21,466 feet) in the Himalayas.
The Shivling expedition served as a warm-up and final test for Rozov, who has made more than 10,000 jumps. In all, the Russian spent two years planning the Everest leap, much of which was spent developing a special new wingsuit.
Read the whole story, take a look behind the scenes and find out more in the exclusive interview with Valery in
The Red Bulletin
.