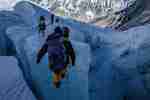 11 reasons why Mount Everest is so special
© Andy Bardon Photography
Mount Everest is now a bigger draw than ever before. Here are some fascinating facts about the world's tallest peak.
Everest is one of the world's deadliest mountains – yet literally thousands of people are drawn to Nepal and Tibet to climb it each year. Since it was first discovered in 1856, more than 4,000 climbers have reached its summit and, these days, with pay-to-climb professional outfits and high-tech equipment, more than 600 manage to make it to the top every year.
Here's some fascinating facts about the highest mountain on Earth.
1. It's as high as a cruising airliner – and it's still growing
Officially recorded at 8,848m, the summit of Mount Everest is just a few hundred metres lower than the cruising height of a jet airliner – and it grows by over half a centimetre every year. It's now around 41cm taller than it was when Edmund Hillary and Sherpa Tenzing Norgay climbed it back in 1953 because the collision of tectonic plates continues to push the giant rock up towards the sky.
But although Everest is the highest mountain above sea level, Hawaii's Mauna Kea is the actually the tallest mountain on Earth from base to peak – it measures more than 10,200m but only 4,200m of it is above sea level.
2. Everest never saw his mountain
Mount Everest was first identified during the Great Trigonometrical Survey of the Himalayas in 1841 and was named Peak XV. Andrew Scott Waugh declared it the world's highest in 1856 and renamed it after Colonel George Everest, who began the survey but retired and never saw the mountain.
Many people still prefer to call it by its traditional names – either its Tibetan name of Chomolungma, meaning 'mother goddess of the universe' or its Nepalese name Sagarmatha, meaning 'goddess of the sky'.
3. Climbing is limited by the jet stream
There is, at best, just a couple of weeks' window of opportunity to climb Everest each year because most of the time the jet stream sits on top of the summit, bringing with it winds of over 320kph.
Twice a year, in May and November, it moves north and things calm down, but with -30ºC temperatures in winter compared to -20ºC in late spring, most climbs are done within just a couple of weeks in May.
4. The safety record has improved dramatically
Everest has been summited 8,306 times (by 4,833 different people) and 288 people have died trying up to June 2017 – a ratio of nearly 29 successful summits for every death. Avalanches and falls cause about half of those deaths and another 20 percent are down to altitude sickness and exposure.
But improvements in gear, weather forecasting and professionalism have helped to reduce the dangers and in the years since 2000 the ratio is 60 successful summits for every death.
5. There are 18 different ways up – but one route is still a jam
There are 18 different climbing routes up Everest but only two – the South East Ridge from Nepal and the North Ridge from Tibet – are used regularly and there are now lines of 'traffic' on peak summit days.
More than 10,000m of fixed rope is used each year to support the climb from Nepal and this route has become so popular that one year more than 150 climbers were stuck in a long queue to reach the top.
6. One breath at sea level is equivalent to three on top
Air at the summit contains just one third of the oxygen in air at sea level, so very few people try to climb without using supplementary oxygen – in fact 97.5 percent of all summits have been achieved with it. Climbers usually begin to use bottled oxygen just below the 'death zone' at 8,000m, but given the weight of the canisters there's a limit to the amount they can use, so it only gives enough to make it feel like 7,000m.
As a result, many suffer from High Altitude Cerebral Edema (HACE), leading to slurred speech, confusion, reduced coordination, hallucinations and poor decision making – none of which are good in the death zone.
7. To climb, you must be blessed
Before anyone sets off on a summit expedition they must ask for protection from the mountain gods in a traditional Puja ceremony, performed at Base Camp by a Buddhist lama and two or more monks.
The ceremony begins with the building of a special cairn and the flying of prayer flags before offerings are made to the gods, climbing equipment is blessed, and rice and flour are thrown into the air.
8. The first summit was revealed in code
The successful 1953 summit expedition was covered exclusively by the London Times newspaper – and it was so crucial that they reported the news first, the reporter used a code to transmit the message to his editors.
The day the summit was reached, reporter James Morris sent a telegram stating: "Snow conditions bad hence expedition abandoned advanced base on 29th and awaiting improvement being all well."
In the code, 'snow conditions bad' meant 'summit reached', 'abandoned advanced base' meant Hillary, and 'awaiting improvement' meant Tenzing – so it actually read: "Summit reached on May 29 by Hillary and Tenzing."
9. Climbing it requires a big budget
It costs between €22k and €68k to climb the mountain in an organised group – either with an international guide or, increasingly, an all-Nepalese team – according to research by
www.alanarnette.com
. To do it privately, it's over €80k – and you can join 15-time summiter Dave Hahn for around €92k.
10. It's getting way, way busier
From the first successful ascent in 1953 up to the turn of the century, there was an average of 25 successful summits per year. Between 2000 and 2017, the average was 16 times that, with 415 summits per season. In 2017, 1,062 people set off from Base Camp to climb the mountain and 648 of them – 61 percent – made it to the summit. That was just under the 2013 record of 658.
Recent seasons have seen massive increases in people from India and China, adding to the historic demand from the Americas, Europe and South East Asia, and the numbers are expected to continue to grow.
11. Hillary and Tenzing are not the only legends in their families
Sir Edmund Hillary and Sherpa Tenzing Norgay may have gone down in the record books as the first to set foot on the summit but their climbing sons Peter and Jamling deserve a bit of Everest kudos too.
Peter made the summit in 1990 – making the Hillarys the first ever father and son to have reached the top – and Jamling reached the top six years later in 1996. The pair summited a second time, together, in 2002.