Why Do People Participate in Wings for Life World Run?
© Marv Watson/Wings for Life
Find out what inspires people to participate in simultaneous events around the world, and see how you can watch the action unfold live on May 6, 2018.
Now in its fifth year,
Wings for Life World Run
goes from strength to strength. With its motto "Running for those who can't," the aim of the event is to raise much-needed cash for Wings for Life, which funds vital research into curing spinal cord injury. A hundred percent of the entry fees and sponsorship raised goes straight to the charity.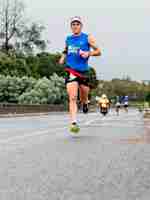 Why we Run Wings for Life World Run
Watch the clip above to find out what's inspired the winners, high-profile endurance athletes and members of the running public to compete in Wings for Life World Run.
Thousands of people take part each year in organized events worldwide and via the
App Run
app that all start at exactly the same time, whether that be the evening or early hours of the day in their time zones.
The unique Catcher Car concept means that instead of crossing a finish line at a designated distance, you run as far as you're able before the finish line catches up with you. The last person to be caught is therefore the furthest traveled and is the winner.
The race action starts at 11 a.m. UTC on Sunday, May 6, 2018. Tune in via the event link below to follow along.