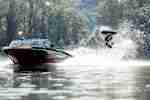 These wave riders were in a class of their own at the World Waterski Open
© Alexander Schwarz/Red Bull Content Pool
Two days of water-skiing action saw Dorien Llewellyn win the men's category and Giannina Bonnemann claim first place in the women's event in the Austrian town of Steyregg – get the lowdown right here.
The Austrian town of Steyregg played host to some epic water-skiing for the World Waterski Open which saw Dorien Llewellyn continue his family's tradition of winning big on the water to claim first place in the men's category and Giannina Bonnemann outgun her own sister to win the women's event.
Austrian watersports legends Britta Grebe-Llewellyn and her husband Jaret Llewellyn organised the prestigious two-day event and watched on with pride as their son Dorien reigned supreme in the disciplines of slalom, trick and jumping.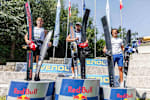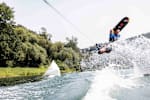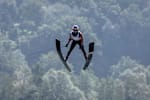 "I am so happy about my victory," said Dorien, who finished with a total of 2631.51 points ahead of Robert Hazelwood on 2528.81 points and Pol Duplan-Friborg, who scored 2295.52.
"It was a great event that my parents organised here. I'm very satisfied with my performance – all three disciplines were really as I had hoped."
Watch this film to learn more about Llewellyn family's watersports dynasty – and how Britta and Jaret won so many titles between them:
The women's event was a two-way battle between two sisters from Germany: Giannina and Carlotta Bonnemann, with eldest sibling, Giannina, narrowly taking the win with 3061.38 points.
"The competition was just great," said Giannina, who's ranked number three in the world. "Having an overall event with all three disciplines is great, and I hope that something like this will be here again in the future. My performance was terrific – it went just great."