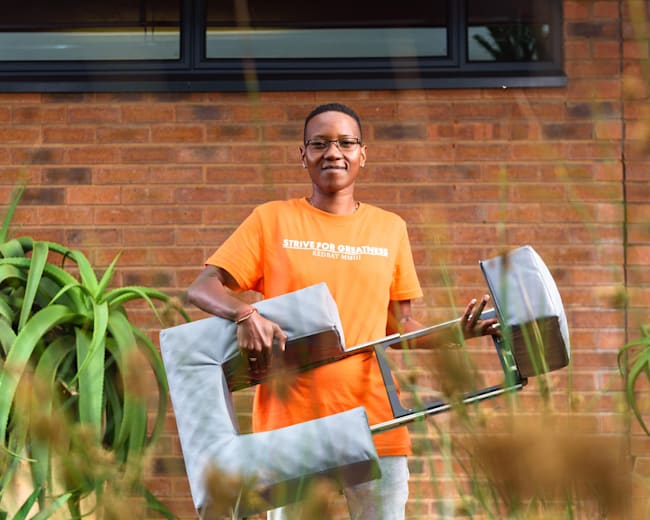 Portia Mavhungu gives independence and dignity to wheelchair users
© Mpumelelo Macu
Her invention, the Para-Tube, allows wheelchair users to use a bathroom without assistance
Raised in Laudium, Pretoria, Portia Mavhungu is the inventor of the Para-Tube, a retrofitted seat that fits in any chair with a built-in toilet using disposable, biodegradable bags giving independence and dignity to its users. Raised by the grandmother of an Indian family her mother worked for, she follows Tamil-Hindu culture. While her initial desire was to study drama, she ended up in marketing which she discontinued after two years due to a lack of interest. Thereafter Portia started working at Telkom and studied IT through them.
Portia's entrepreneurial ambitions were brought to light at her 21st birthday when she proclaimed that she wasn't born to work for anybody, something which only made sense later in life when she started following an entrepreneurial path. A major accident in 2011 which saw her with a broken pelvis saw her spending part of her recovery in a wheelchair in which she experienced first hand the loss of independence and dignity which comes with it as she needed assistance getting to the toilet. Although initially depressed, Portia recognised that she was in this situation temporarily and thought about all the other people for who it was a permanent situation. This led her to start thinking of ways to solve the issue resulting in the development of the Para-Tube. The Para-Tube itself is made from off-the-shelf components in order to keep costs down for the end users.
Portia faced numerous challenges while developing the Para-Tube including facing doubt in her idea when she first shared it with family members, not expecting to start a business, as well as gaining funding in order to develop a prototype and launch the company. Her love for social entrepreneurship stems from the values and principles that were instilled in her by her mother and grandmother which has nurtured a compassionate and empathetic spirit that sees her wanting to help people and improve their lives, exemplified in her spending holidays such as Christmas and New Year's Eve as well as her birthday with kids at orphanages.
While Portia finds helping people with her project exciting, she doesn't feel like she's achieved her goals yet, which would be knowing somebody is using her product and that it is making a difference in their lives. Portia hopes to gain knowledge at the Amaphiko academy as well as tips on balancing work and business life.
Portia Mavhungu gives independence and dignity to wheelchair users