Here's the moment Didi Alaoui realised all his struggles and sacrifices had been worth it – as the 24-year-old from the northeastern Moroccan town of Oujda celebrated overall victory at
Red Bull Art of Motion
, the biggest event in freerunning.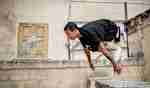 Be sure to download the free Red Bull TV app and catch the freerunning action on all your devices!
Get the app here
Alaoui's rise to the top of sport is a triumph of self-belief. From discovering the sport on YouTube, Alaoui trained by himself every day in the sand, with no gym or coaches to guide him.
His desire and persistence paid off and his life changed in 2016 when he won a gymnastics scholarship in Denmark that kick-started his career.
Alaoui had to make a big sacrifice to take his place at Art of Motion – giving up his coaching job just to get the necessary time off. "The manager said that if I missed work, I wouldn't have a job when I came back. I quit, which was a big risk, as I didn't have money to pay rent and I knew there was no going back."
Having been forced to leave his parents and five siblings behind, he dedicated the victory to them. He said: "The win was not only about me, but for everyone back home from my country – for everyone that has a dream that thinks something is impossible."