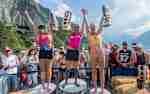 Equal opportunities for women in cliff diving
The World Series introduces equal pay, equal athletes and an equal format for the women.
Across the sporting world, equality and female empowerment are more evident than ever before. In the 2020 season, the
Red Bull Cliff Diving World Series
is proud to announce that for the very first time there will be equal prize money for the men and women. In addition to that, there will also be parity in the number of permanent divers, along with an equalised format.
Four-time women's World Series champion,
Rhiannan Iffland
, has helped thrust the women into a larger share of the limelight in recent years, and the Australian is delighted with the changes:
"This is beyond amazing," says the 28-year-old record-breaker. "We have seen other sports going that direction where they have closed the pay gap between men and women. For us to introduce that this year is so exciting, and it feels so empowering already to be a woman in an extreme sport and now to be equal with the men is something very, very fantastic.
"For me it's not about the money, it's about having that recognition and having the same exposure and feeling just as powerful as the men."
As a woman it's really important for me to inspire other women to go beyond their fear, to push harder and to improve
The addition of a new intermediate dive to the women's format shows that this empowerment is not just about the pay cheque, as Iffland points out, but also about sportive equality. Since 2014, the women have been dazzling fans all over the world with their stunning aerial acrobatics, and it takes no less effort, training or commitment to do it from 21m than it does from 27m.
"There is as much talent in the women's as in the men's," says Canada's
Lysanne Richard
, "and the equality will help the development of the sport and encourage a lot of women to join the circuit.
"As a woman it's really important for me to inspire other women to go beyond their fear, to push harder and to improve. Having the same number of women on tour as men in an extreme sport like cliff diving will definitely motivate younger athletes to join the tour."
Orlando Duque
, the recently retired World Series legend, believes these changes are crucial to the development of the sport that he helped to pioneer:
"It's a great thing of course," says Duque, "it puts everybody on the same level, and it should be like that. It helps develop the sport. It opens up to more women, which is really good. We need to develop both sides at the same time and in order for the sport to grow to the point where we want to go this is what we needed, that was the next step and I am pretty happy that it's working. I'm sure it's going to be a success."
When it comes to empowerment, and what that truly means,
Gary Hunt
sums it up perfectly:
"For many, many years females have been looked upon as a weaker sex and secondary in some sense, and that must be a terrible thing. Of course, it's important for them to feel they are on the same standing as men. I think it's been a long time coming and it's normal."