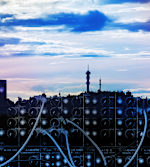 Red Bull Music Festival 2018
Johannesburg, South Africa
80 ARTISTS | 6 DAYS | 1 CITY | FEATURING: SKEPTA (UK), AKA, DA CAPO, TROMPIES, SHEKHINAH, 340MILLION and many more...
Returning to the inner city of Johannesburg in 2018 the Red Bull Music Festival brings you a celebration of the artists that have spurred the evolution of South African music over the last twenty years as well as the first performance in South Africa from international grime superstar SKEPTA.
03 April, 6PM to 11PM: 73 JUTA STR | KHUMBULA
Feat. LANGA MAVUSO, ZOË MODIGA, KENZHERO AND LEEU
Two of South Africa's most exciting young musicians and vocalists, Langa Mavuso and Zoe Modiga, will perform an intimate session of music that pays tribute to South Africa's rich historical heritage, while also performing renditions of their current songs that have made them young stars on the rise.
04 April 7PM to 10PM: ORBIT UPSTAIRS | ROUND ROBIN
Feat. BENJAMIN JEPHTA, BONJ MPANZA, LUYANDA MADOPE AND MANY MORE
Red Bull Music brings back its Round Robin event, this time for its debut in Johannesburg. The format? Simple. One musician starts a solo improvisation lasting five minutes. Another musician then joins for five minutes of duo improvisation. After those five minutes, musician #1 leaves the stage and musician #3 joins musician #2 for another five minutes, and so on and so forth. A fresh balance of established musicians and incredible up and coming talent, will ensure moments of true magic.
04 April 10PM to 2AM: ORBIT DOWNSTAIRS | SURFACE NOISE
Feat. DJ OKAPI, ZARA JULIUS AND DJ BUBBLES
Vinyl collectors DJ Okapi, DJ Bubbles and Zara Julius dig into their crates to deliver a selection of records that dip into the past with trail-blazing, often forgotten gems that shine a light on eras of music that would do well to be re-celebrated.
05 April 8PM to 2AM: NEWTOWN MUSIC FACTORY | 22 YEARS OF FIRE
Feat. AFRICAN STORM SOUND SYSTEM
Probably the oldest weekly party in Johannesburg, the Ragga and Dancehall night shows no signs of letting up. To make things special Admiral and Jahseed will be inviting young ragga artists from Zimbabwe and potentially Ghana to expand on the African Storm Sound System.
05 April: TMRW Gallery
Feat. DEAR RIBANE AND BEHR
Conceptual performance artists and production company Dear Ribane are a creative collective who aim to set new trade standards. They have a unique ability to create strong and timeless narratives through conceptual editorial, set designs, innovative clothing designs, and theatrical performances. Their crew are made up of Manthe Ribane, Tebogo Ribane and Kokona Ribane. They will present a performance art piece at TMRW Gallery at Jozi's freshest celebratory 1st Thursday space, Keyes Art Mile, along with a Red Bull Music Academy alumni, Behr providing left-field alluring electronica.
06 April 9PM to 4AM: AND CLUB | CLUB NIGHT
Feat. EGYPTIAN LOVER AND THE HACKER
Johannesburg's beloved no-nonsense dance music club, will host two true electronic music pioneers, Egyptian Lover and The Hacker. A member of Uncle Jamm's Army, Egyptian Lover from the US helped crafts the blue-print for both West-Coast hip-hop and electro in the 80s and 90s, while the Hacker from France helped shape the sound of electro and techno in the 2000s and its subsequent breakthrough into the mainstream.
06 April 6PM to 2AM: KITCHENERS | CLUB NIGHT
Feat. ANGEL-HO, STIFF PAP, MOONCHILD SANELLY, DJ LAG AND MORE
06 April 6PM to 2AM: GREAT DANE | CLUB NIGHT
Feat. ROUGE, MOOZLIE, K-$, 2LEESTARK, PATTY MONROE AND MORE
With so much throwback and reference to the past, Friday's focus at two of the city's busiest venues, will be on the millennial artists shaping the sounds and attitudes of today's clubbing experience. From gender-binary challenging champions such as Angel-Ho and K-$, to Gqom pioneers DJ Lag and the Audioboyz to SA hip-hop emcees Moozlie and Rouge to Future Beats pioneers, Sean Munnick and Daev Martian, this is the sound of South Africa's Generation Z getting down.
06 April 5PM: AND CLUB
A CONVERSATION WITH TROMPIES
Trompies helped define the crucial sound that was Kwaito in the 90s, in sound, aesthetic and cultural relevance. In this conversation moderated by music journalist Helen Herimbi, they will talk about the rise of SA's beloved musical movement, in the post 94 election haze to the 2000s and how their music balanced celebration alongside social commentary.
06 April 7PM: AND CLUB
A CONVERSATION WITH EGYPTIAN LOVER
Egyptian Lover is a legend in certain circles but a mystery to most, an artist who was in deep with most of the west coast hip hop scene before the gangsta sound came along. Born Greg Broussard, Egyptian Lover was a rapper, DJ, and producer who was hugely influenced by the New York electro scene, as well as by the electro-funk of Zapp.
06 April 7PM to 2AM: REPUBLIC OF 94 | WAAR WAS JY?
Feat. TROMPIES, GLEN LEWIS, OSKIDO, DJ TIRA AND KID X
Kwaito's history goes back to the mid-tempo Chicago house sounds of Glen Lewis, the mixture of house, hip-hop and pantsula culture of TKZEE through to the 125bpm Afro-House sounds of Oskido and Kalawa Jazmee to the modern hip-hop excursions of Kid X and Cashtime Record's "New Age Kwaito". We trace and celebrate South Africa's biggest modern music genre, its legacy and its continuing presence.
07 April 5PM to 2AM: FOX JUNCTION | GLOBAL PERSPECTIVES
Feat. Skepta, 340million, Shekhinah, Langa Mavuso, Gina Jeanz, Kid Fonque, Gerd Janson, DJ Stingray and more.
Fox Junction hosts the Red Bull Music Festival main event on Saturday and will see the legendary South African band 340million share a stage with trailblazing youngsters such as Langa Mavuso and Gina Jeanz, while the second floor will see some of the best local DJs alongside deep-house stalwart, Gerd Jansen and dystopian techno challenger, DJ Stingray.
08 April 4PM to 2AM: ZONE 6 | Home Grown
Feat. Sjava, Sho Madjozi, AKA, RudeBoyz, Distruction Boyz, Da Capo and Jullian Gomes
A night in honour of artists pioneering sounds distinct to South Africa, rooted in tradition and elevated through millennial culture. From Sjava's hip-Hop / Maskandi creations alongside Sho Madjozi's balance of Tsonga and Turnup to the raw, complex rhythms and shapes of Gqom to the distinct tone and soul of local deep house - modern and accessible and at the same time deeply-rooted in their heritage and the traditional music genres they grew up with.