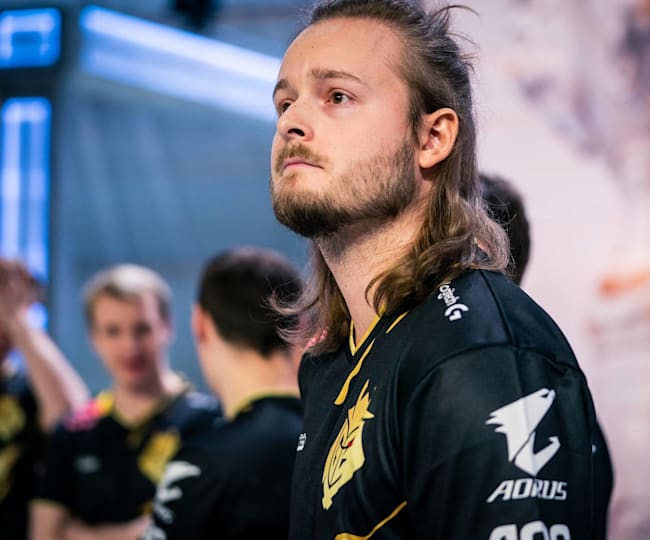 © Riot Games
G2 Esports' promisq talks Worlds, his role and the current meta
The memes may be many for Hampus Mikael 'promisq' Abrahamsson, but he's primed and ready to jump in and help G2 Esports at a moment's notice.
With an incredible 2019 League of Legends World Championship campaign underway, G2 Esports are ready to take on FunPlus Phoenix in the grand final this weekend in Paris, France. But for one G2 pro, he's spent much of the Worlds campaign biding his time, and waiting in the wings just in case.
Hampus Mikael 'promisq' Abrahamsson is G2's sixth man, the support waiting in the shadows. While he hasn't had as much stage time as his team-mates, there's plenty he's been helping out the team with away from the limelight. Away from the many memes made about his place on the team, promisq has been brought in for a reason – he's played a crucial role for the LEC side.
"G2 reached out for help because [Support Mihael 'Mikyx' Mehle] had an injury," promisq explains. "At the time I was teamless. and it was a good opportunity for me to follow how the best team in EU practices and approaches the game. In return, they had a fifth member to practice with for when Mikyx was recovering. It was a good match on both sides and I've learned a lot from them so far."
"And if I'm honest, they've learned a lot about Veigar mid especially from me (Looking at you, Faker)," he jokes.
The support player has been a key element in helping the team scrim, and whether that was for the Mid-Season Invitational, during the main season, or for this year's Worlds, he's always been on hand to help – both on-stage and off.
"I love playing the game and every chance I get, I will take it 100 percent seriously," he says. "However, it's never fun if it comes at the cost of a team-mate. Scrimming with the team prior to MSI didn't really bring any pressure, but it was refreshing and fun to play at the highest competitive level again."
"I'm always on standby for game input as well as playing scrims should the need arise, but luckily for the team, Mikyx has made a practically full recovery so far," he explains. "However, I'm keeping my lane bullies ready should he ever regress. Other than that, I'm around to do a cheeky vlog now and then and just enjoy the ride."
And what a ride it's been: G2 have ascended up the Worlds main event, and are now in prime contention for the Summoner's Cup – only FunPlus Phoenix stand in their way, but promisq thought things could have played out rather differently this year, especially for one of the other Chinese teams.
"Initially, I would say RNG not making it very far can be surprising, but if we look at who did make it out, it's hard to say whose spot they would deserve. The group draw was definitely not in their favour, but they also dropped the ball along the way." he says. "That's the reality of Worlds; one or two bad games can essentially cost you the tournament."
As G2 head in to face FPX in Paris, promisq has been keeping a close eye on their foes, and feels one player has been a positive surprise – who could prove to be deadly.
"One positive surprise for me has been [Liu 'Crisp' Qing-Song], FunPlus Phoenix's support player," he says. "I already had a high opinion of him, but he performed on an even higher level. I definitely enjoy watching his pro view."
The current Worlds meta has been fast and furious, with plenty of games spilling plenty of blood – and promisq thinks it's one of the more mixed metas we've seen in a while. "The games right now are fast paced, high action and bloody overall, which is definitely up my alley," he says. "I myself enjoy engage champions as well as the traditional supports, and it's fun to see a more diverse meta compared to previous Worlds."
Watch G2 Esports compete in the League of Legends World Championship 2019 final against FunPlus Phoenix on Sunday, November 10.