Jesse Marsch on his drive and ambition for Red Bull Salzburg
© GEPA pictures/Christian Walgram
After becoming the first American to win a major league title in Europe, Jesse Marsch talks about his coaching style, his belief in the power of diversity – and why Red Bull Salzburg can emulate Ajax.
Red Bull Salzburg's 3-0 victory over TSV Prolactal Hartberg clinched their seventh successive Austrian Bundesliga title and made Jesse Marsch the first American coach to win a major league championship in Europe.
Beyond those milestones, it also confirmed that at Red Bull Salzburg, the 46-year-old from Wisconsin has found the perfect environment for his optimism, self-belief and faith in a squad of players made up of 13 different nationalities who came together to make it through a difficult spell in the middle of the season and finish stronger than ever.
Salzburg have broken the 100-goal mark in the league with two games still to play, as the likes of Zambian forward Patson Daka (24 league goals) have flourished following the January transfer window departures of Erling Haaland and Takumi Minamino.
We're on the international stage and it's our job to keep us there
Now, Marsch wants to see Red Bull Salzburg establish themselves as regulars on the European stage, while further developing their reputation for producing outstanding players.
"My goal for this club is to become like an Ajax," he said. "It's not just breeding young talent and domestic champions but being a mainstay in the Champions League.
"There was a barrier for years where we came a little bit short from qualifying for the Champions League group phase. The goal now is to be there every year. That drives me. That now has to be the goal – we're on the international stage and it's our job to keep us there."
Marsch's path to becoming the first American coach to win a major European league title has been a long one.
The centrepiece of his MLS playing career was a seven-year stint at Chicago Fire that began just as Michael Jordan was enjoying his 'Last Dance' at the Bulls.
When he lost his first high-profile coaching job at Montreal Impact, he uprooted his young family on a backpacking adventure, which took in the Himalayas, the Pyramids and the Taj Mahal.
His next MLS job saw him achieve the best winning record in New York Red Bulls history, before he moved on for a stint as assistant at RB Leipzig and then to his first major managerial role in Europe.
Reflecting on the tougher managerial times, he said: "I had a reputation in the US for being arrogant and over-confident. I am confident and I have self-belief, but I was worried I wasn't going to find the right club that had the same philosophy and belief system.
"Fast forward to now and I've been treated a little bit like I'm at the forefront of coaching and I'm pretty much the same as five or six years ago. So, it's an interesting fine line between success and failure. In the end, what I learned in the process is that you stick to the things you believe in and not get too caught up in anything too negative or positive.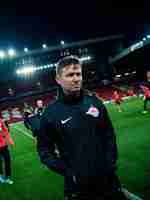 Be sure to download the free Red Bull TV app and catch the football action on all your devices!
Get the app here
"I think what makes me different is that I'm a very positive, optimistic person – I believe in people. And I have that drive and competitive will, the belief I can be the best. It's American I think, a bit naïve, American foolishness!"
A big part of any success is appreciating multiculturalism
Marsch's belief in the power of multiculturalism has been with him since his first days in football. It's a facet that's central to his coaching philosophy and Salzburg's successful approach, with striker Daka and his Zambian compatriot Enock Mwepu, South Korean forward Hwang Hee-chan and Hungarian midfielder Dominik Szoboszlai all shining under his leadership.
"Diversity for me is growing up in the US and playing football too," he said. "In the Milwaukee youth clubs, we played against teams named the Serbians, Polonia, Bavarians, Chivas. It was like playing in an ethnic league. So I was exposed to diversity in football at a young age.
"A big part of any success is appreciating multiculturalism. You have to expose yourself to the world and what's out there. Those experiences make you more well-rounded and a better person."
Marsch made a public statement in a recent league match by wearing a homemade Black Lives Matter armband while standing on the touchline and speaking of his support for the fight against racism.
"There's so much to do to uncover the nastiness and negative core beliefs of racist people," he said. "Now there seems a more widespread movement with people having Black Lives Matter T-shirts and armbands. But we have to have a zero tolerance for people to be treated negatively because of the colour of their skin.
"We have to treat people on the way they act and who they are at the core."