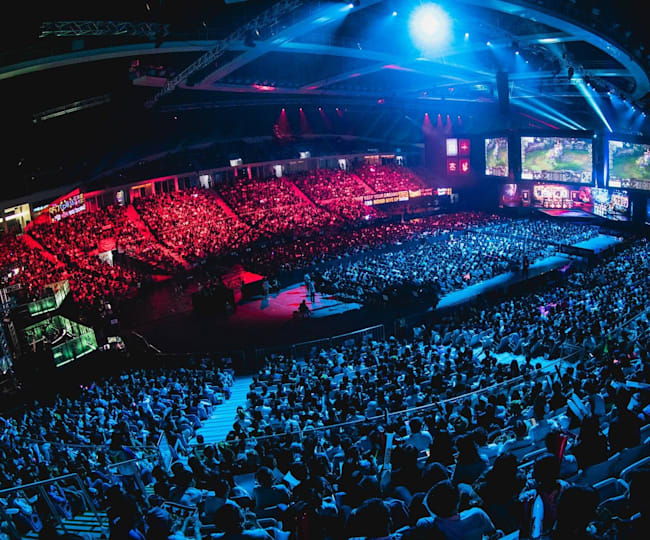 © Riot Games
How the underdogs made Worlds 2017 the best yet
Some of the best series ever seen at Worlds were played this past weekend, as the underdogs and their head-turning new strategies managed to push the favourites all the way.
When the group stages of the
League of Legends World Championship
wrapped up and the quarter-final draws were revealed, many fans were initially disappointed. The three
Western teams
, Misfits, Fnatic and Cloud9, were drawn against Korean and Chinese opponents, and almost instantly became the underdogs for their match-ups. The last quarter final was Longzhu Gaming vs Samsung Galaxy, an all-Korean affair with the tournament favourites going up against a side that had scraped through both qualification and the group stage. The results were a given, pundits assumed.
They were right, and they were wrong: the winners on paper did indeed win, but not before the Western teams made it very clear that the skill gap is getting narrower. The results on paper also do no justice to what were the best set of quarter-final matches ever seen at Worlds. The underdogs didn't always win, but they all put up one hell of a fight and gave us some of the best international series League has ever seen. Let's take a look.
Longzhu Gaming vs Samsung Galaxy
The only all-Korean affair of the competition so far, and the only possible one until we reach the Grand Final, was predicted by most to be pretty one sided. Despite coming second at last year's World Championship, Samsung Galaxy aren't even considered the third best Korean team this year, despite making it to Worlds. In the group stage they lost twice to RNG and had surprisingly close matches with G2 and 1907 Fenerbahçe Esports – in other words, they didn't look as strong as a South Korean team at Worlds should.
Longzhu, on the other hand, did what all good Korean teams do at Worlds: dominate their group and make it to the quarter finals without breaking a sweat. In a group that included Immortals, Fnatic and the highly entertaining GIGABYTE Marines, this wasn't too surprising, but they looked unbelievably strong and became instant favourites for the title.
But Samsung clearly didn't read that script, as they came in and absolutely dominated their compatriots. The composed and clinical Longzhu were nowhere to be seen, with Samsung pulling them apart in every game to take a quick 3-0 win and advance to the semi finals for the second year running. Many assumed this would be the closest of the four quarter finals, but it in fact it turned out to be the biggest blowout, and was a sign of things to come.
After the excitement of the underdog story the day before, no one thought that the young Misfits side, who only joined the LCS at the start of the year, would be able to do anything against reigning champions SKT.
Things started off as you would expect, with SKT taking a quick 25-minute win in game one and looking pretty good. But Misfits clearly had something planned for this situation, as they pulled out a Blitzcrank in game two, which caught everyone off guard, giving them the game two win. Misfits busted out another new pick in the form of
Ivern
in game three, and while it was a lot closer, they again took the win, meaning they were just one game away from the single biggest upset in professional League of Legends history.
Unfortunately SKT played spoiler to that in game four, taking a long but somewhat straightforward win, setting up a game five that got the whole esports world talking about Silver Scrapes and how good it is.
Once the final game started up, Misfits found themselves in the lead, with SKT seemingly on the ropes. That was until Misfits decided to go for the Elder Dragon, which seemed like a great move considering they already had three Infernal Dragon buffs. As the Dragon dropped low, SKT jungler Kang 'Blank' Sun-gu jumped into the pit and managed to win the Smite war, taking the dragon for SKT and forcing Misfits to retreat. However, that retreat was stopped by a big teleport play from Heo 'Huni' Seung-hoon and SKT took the fight, taking down four Misfits players who had agonisingly long death timers. This one Smite seemingly won the game for SKT, as they barrelled down mid and took the win, ending Misfits' chances in heartbreaking fashion. The series will go down as one of the best in LoL history, and this Misfits lineup will forever be remembered as the team that was one Smite away from knocking triple-crown champs SKT out of Worlds.
Fnatic vs Royal Never Give Up
Unfortunately this was by far the most underwhelming series of Worlds. RNG came in as favourites and walked out as winners, but it certainly took them a while. The final score was 3-1 to the Chinese team, but all of the matches went over the 40-minute mark, with Fnatic's win in game three taking a massive 54 minutes and 45 seconds.
While RNG walked out as 3-1 winners, that almost seems a little harsh towards the Fnatic team that put up an amazing fight and really made this into a series. If a few small details had gone their way, then we could be looking at them in the same light as Misfits, or even as the only Western team in the semi finals. Unfortunately they'll now have to wait until 2018 to try and make it back to the Worlds semi finals or even further, as they managed way back in 2011.
Many predicted Longzhu vs Samsung to be the closest semi final, but they also predicted this to be the most likely to feature an upset, if you can even call it that. Team WE had looked great in the play-ins and only dropped a game to TSM in a group that also featured Misfits and Flash Wolves.
The series did not disappoint and again went all the way to game five – the similarities to the Misfits SKT series were clear. WE took game one, but this time it was a lot closer and arguably a game C9 should have won thanks to an outdraft.
After just missing out on game one, C9 decided to try their own off-meta picks, by bringing out Singed in both game two and three, winning both pretty comfortably and again out-drafting WE in both games. C9 were one game away from being the first NA team to make Worlds semi finals in the LCS era. This was huge
Fortunately for WE, the team figured out how to effectively ban champions for the final two games and took the wins in both matches fairly convincingly. It was heartbreak for C9 and the West yet again, but they put on one hell of a show; whenever Singed gets pulled out at Worlds you know the matches are worth watching.
While only one underdog actually came out with a win in the quarter finals, all of them ran their opponents close, and created some of the most thrilling matches we've seen at Worlds, not just this year but across the entire LCS era. The Misfits vs SKT series will probably be one that we go back and watch time and time again, and really did capture the magic of esports. There's no doubt that this was the best set of quarter finals at Worlds ever, and we only hope that the semi finals can come close to them.