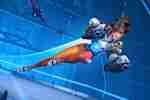 Overwatch 2 - Everything you need to know
© Blizzard
Overwatch 2 plans to expand upon the base game in almost every way, while also ensuring current players don't lose any of their hard-earned progress. Here's everything you need to know so far!
Overwatch 2
is currently in development at
Blizzard
, and one of the key features that this sequel brings to the table is an expansive story-driven campaign alongside PvE co-op missions that will join the game's robust team-based PvP core. Naturally, that side of the experience is getting a lot of love too – and in typical shooter sequel fashion will see the arrival of new modes, heroes, maps, and some impressive visual and audio upgrades to the engine.
Where it gets interesting, and potentially confusing, comes from the fact that the 2016 original is still something that the
Overwatch
team at Blizzard actively supports. In addition to becoming a competitive mainstay boasting over 50 million players and a thriving esports league, Overwatch is also a title that has continued to evolve since its debut over three years ago.
This momentum has led to a unique launch-strategy for Overwatch 2, one that will see all PvP additions and updates arriving for players who own and play the original game – for free. Including those who recently joined the fight on
Nintendo Switch
. With that in mind, we've put together a comprehensive and handy list of everything you need to know about Overwatch 2.
Overwatch 2 will continue the story as detailed throughout the pre-release and post-release cinematic materials released over the past few years.

It picks things up with the disbanded Overwatch group, a band of heroes that fought during the Omnic threat, re-joining to fight a new global threat in the form of Null Sector.

As highlighted in the

Zero Hour

cinematic short,

Winston

is joined by

Mei

,

Reinhardt

,

Tracer

, and others at the eleventh hour signalling the return of Overwatch.

This forms the basis of the game's main campaign that will be broken up into several Story Missions.

Story Missions will follow specific heroes in narrative driven PvE missions that will take place in various cities across the world.

The first Story Mission highlighted by Blizzard takes place in Rio de Janeiro and puts players in the roles of Lucio, Tracer, Mei, and Reinhardt as they race to save the city and board a large Null Sector ship.

Even though Story Missions will put players in the role of several Overwatch heroes, not all 31 playable heroes in the current roster will be represented in Story Missions.

Blizzard is investigating the ability to add more playable heroes to specific Story Missions, but only where it makes sense.

For example, in the Rio mission

Brigitte

is also present at the scene, so she may become another choice for players before heading into the fight.

Story Missions and co-op PvE content in Overwatch 2 will support up to four players on a team, with vacant roles filled by AI companions. As such, Overwatch 2's campaign can be played solo.

New mechanics have been added to support PvE design, including the ability to pick up and use items like a

Healing Station

and

Corrosive Grenades

.
Overwatch 2's story will also feature pre-rendered cinematics and has a defined beginning, middle, and end...
Enemy AI will come in various flavours from simple pattern-based robots to large bosses with distinct strategies and abilities.

Several engine upgrades were made by Blizzard to support both the larger maps found in Story Missions and the larger groups of enemies you'll face.

Overwatch events like

Junkenstein's Revenge

and

Archive Missions

were seen as experiments for the team to test ideas, engine upgrades and new mechanics for Overwatch 2.

The new cinematic approach also means Story Missions will feature several real-time cutscenes.

Overwatch 2's story will also feature pre-rendered cinematics and has a defined beginning, middle, and end.

Maps will be more detailed in Overwatch 2 and include things like dynamic weather, fog effects and improved physical modelling for things like cloth.

Scripted events in Story Missions will affect maps, with a simple example of this being a building that collapses or a large vehicle crashing or exploding.

In designing PvE missions the team developed new audio and music tools to accommodate this new direction. This includes the introduction of a fully dynamic music system that will change and react to player action.

Story Missions, although replayable in the sense you can choose to play through them again as different heroes, will be linear and structured.

Hero Missions will serve as the PvE side of Overwatch 2 that players will come back to time and again.

Hero Missions will allow players to choose any hero they wish and tackle highly varied missions that will feature varying objectives, enemies, levels of randomisation and procedural generation.
Some examples of Hero Missions include horde-style holdouts and large boss battles.

Hero progression will be introduced with levelling that will unlock various talents that will fundamentally alter how skills and abilities behave. Some talents will serve as upgrades.

A few examples of potential build-specific hero talents is a flamethrower turret for Torbjorn and a chain reaction Ultimate for Tracer that will cause her Pulse Bom to detonate several times.

Talents and progression will be available for all Overwatch heroes.

All heroes in Overwatch 2 are set to get a visual makeover that focuses on detail for more emotive expression with things like new skin textures and facial animation.

All visual upgrades and updates will apply to the original Overwatch.

All heroes in Overwatch 2 will have a brand-new default skin to highlight the upgrade and new look.

All hero unlocks in the form of skins and cosmetics will carry over to Overwatch 2. To accommodate the upgrades each of these will be touched up by Blizzard artists to ensure the transition is seamless.

Both PvP and PvE will feature a new UI that will make information more readable and easier to understand.

Overwatch 2 will see the introduction of a new PvP mode called Push.

In what is best described as a combination of

Control

and

Escort

. Two teams vie for control of a central robot in a symmetrical map where the goal is to 'Push' the robot towards a goal.
Push maps will feature obstacles and varying spawn points as seen in Escort maps.

All existing Overwatch competitive modes will see the arrival of multiple new maps.

New map locations revealed so far include – Toronto, Gothenburg, Monte Carlo, and Rio de Janeiro.

Multiple new heroes are also expected to arrive alongside the launch of Overwatch 2 with the first announced being

Sojourn

.

All existing Overwatch players will get access to all new PvP maps, modes, and heroes.

Overwatch 2's story and PvE content will only be available to those who purchase the sequel.

Blizzard has noted that the current game will see the arrival of at least one new hero before the release of Overwatch 2.

The team at Blizzard is investigating the possibility of cross-play for Overwatch 2.

Overwatch 2 is still very much in development with no release date or window announced so far.

With its release date TBC it's expected that the sequel will make its debut on

PlayStation 5

and

Xbox Series X

in addition to

PC

and other platforms.