This year, the world's top B-Boys and B-Girls head to Gdańsk to take part in the very first Red Bull BC World Final to happen in Poland. It'll be preceded by the
Red Bull BC One Camp Poland
, featuring numerous dance battles, workshops, discussion panels and much more. The list of hosts and invited dancers includes Neguin, Bumblebee, Kid David and Kostek.
Red Bull BC One Camp Poland on November 4-6
The Red Bull BC One Camp Poland will take place on November 4-6 in the Gdańsk Shakespeare Theatre and one of its main elements will be the Last Chance Cypher, a battle that will see the winners of the Red Bull BC One National Finals fighting for the spots in the final. The results of the Last Chance Cypher battles will determine, among other things, the number of Polish representatives in the World Final (currently there are two – wildcards were awarded to B-Girl Paulina and B-Boy Thomaz).
Sign up and watch it live
All the workshops, battles and panels will be open to the public, but those who are interested in taking part have to claim a free pass (spectators) or sign up for the event (dancers). Note – the number of spots is limited!
Red Bull BC One Camp Poland schedule
All Styles Room
18:00 – Hip-hop workshop, hosted by Majid
19:30 – Popping workshop, hosted by Angyil
Breaking Room
18:00 – Breaking workshop, hosted by Neguin
Lecture Room
18:00 – Discussion panel: Breaking crews
100cznia
21:00 – Red Bull BC One Day 1 After Party feat. Lazy One, Fleg
All Styles Room
15:00 – Hip-hop workshop, hosted by Diablo & Stala
16:30 – Popping workshop, hosted by Deydey
Breaking Room
11:00 – Breaking workshop, hosted by Xisco
12:30 – Power styles workshop, hosted by Bumblebee & Nord Diamond
14:00 – Footwork workshop, hosted by Intact
Lecture Room
20:00 – Discussion panel: Breaking since 2001
Bunkier
21:00 – Red Bull BC One Day 2 After Party feat. Dejot & Kapela
Ergo Arena
17:30 – Red Bull BC One World Final (livestream)
Main Room (Shakespeare Theatre)
12:00 – Gates open
13:00 – Bonnie & Clyde battles (judges: Xisco, Karima, Mefo)
15:00 – Hip-hop & Popping battles, Top 8
All Styles Room
11:00 – House workshop, hosted by Kapela
13:00 – Rocking workshop, hosted by Kostek
Breaking Room
11:00 – Breaking workshop, hosted by Kid David
13:00 – Hip Hop & Popping 2vs2
Lecture Room
13:00 – Workshops with DJs, hosted by Scream & Uzee Rock
Plenum
21:00 – Red Bull BC One Day 3 After Party feat. Beezee, Lean Rock & Kid David
While you wait, check out the Dance City Guide to Gdańsk: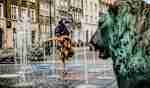 Tour Gdańsk with B-Boy Kleju