These are South Africa's best 1v1 fighting game players
© Craig Kolesky / Red Bull Content Pool
JabhiM defends his title and wins Street Fighter V with Iggy clinching the Tekken 7 crown at 2020 Red Bull Hit The Streets
JabhiM and Iggy Igsaan were crowned 2020 Red Bull Hit the Streets SA champs for Street Fighter V and Tekken 7 respectively on 3 December.
Before the tournament started I was nervous but something kicked in and then I started flowing because ultimately this is my passion. I am super amped to get my rematch against the best in the world"
The event took place at the Red Bull Studios in Bree Street, Cape Town and saw 8 players compete for the title across the two disciplines. As winners of this year's finals, Alexandra JabhiM and Iggy Igsaan from the Mother City, have earned themselves an all-expenses paid experience at the Red Bull Kumite in 2021. Red Bull Kumite is an international Street Fighter V event where gamers from all over the world compete against each other in person.
National Tekken 7 2020 winner Iggy Igsaan is looking forward to his first international tournament. "I am really excited about going to Red Bull Kumite, it'll be my first trip abroad and I am looking forward to taking the local Tekken scene worldwide."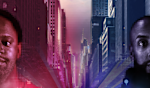 Winning Red Bull Hit The Streets with JabhiM
This year, the qualifiers took place online throughout the month of November determining the final competitors for last night's final. The last chance qualifiers and finals took place inside the Red Bull Studios in Cape Town. The grand finals were livestreamed on Red Bull's Twitch page, where gaming fans from all over South Africa and the world were able to watch the finals live.