Pagès powers to X-Fighters victory in Pretoria
Watch Thomas Pagès unleash his full repertoire to win the South African Red Bull X-Fighters stop.
Thomas Pagès
proved once again that when on form he's all but unbeatable in the FMX arena with a stunning victory in the
Red Bull X-Fighters World Tour
stop in Pretoria, South Africa.
Displaying amazing grace and fluidity on the course loacted in front of Pretoria's historic Union Buildings, the French star delivered another display of next-level freestyle tricks to defeat two-time 2015 event winner
Clinton Moore
in an incredible final that wowed the 17,000 strong crowd.
Watch all the best moments from Pretoria in the video below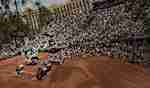 Red Bull X Fighters Pretoria 2015 highlights
After a flawless win at the previous stop in Madrid, Pagès confidence was high in Pretoria and he wasn't to be denied, despite facing a tough draw on his way to the final.
Drawn against defending X-Fighters World Tour champion
Josh Sheehan
in the semi-finals, Pagès was forced to pull out all of his biggest and most innovative tricks to guarantee his progression to the final – especially after Sheehan landed his patented huge double backflip.
With his new Alley-Oop Flair, a flip on the transfer ramp and huge 360 flat spin all landed, however, Pagès sailed through the face the Australian Moore, who has led the championship from the very first round in Mexico and comforatbly beat Japan's
Taka Higashino
to reach the final. Higashino's consolation was an impressive third place, however, his first podium of 2015.
Now I've got time to go back and really practise hard ahead of Abu Dhabi. I want to add a new trick to my list there.
Facing off against each other in the final for the second time this season, Moore ran first on track and pulled out all the stops, landing his signature Bundy varial and the Volt back-to-back for the first time ever in competition, but it wasn't quite enough to beat Pagès incredible trick collection.
The Frenchman responded to Moore's challenge by landing his own signature Alley-Oop Flair, Bike Flip and Special Flip tricks, as well as the Transfer Flip he added to his tricklist out of nowhere, to claim the unanimous win over Moore with the verdict from all five judges.
The result now means that Pagès and Moore are tied at the top of the overall points standings on 280 points each, setting up an epic last battle at the season finale in Abu Dhabi on October 30.
"This weekend has been insane," said Pagès from the podium. "Now I've got time to go back and really practise hard ahead of Abu Dhabi. I want to add a new trick to my list there and to ride even better in the finale for sure."
Red Bull X-Fighters World Tour Pretoria results
10. Javier Villegas (CHI)
Red Bull X-Fighters World Tour 2015 standings
1. Thomas Pagès (FRA) 280 points
2. Clinton Moore (AUS) 280
3. Levi Sherwood (NZL) 185
4. David Rinaldo (FRA) 145
5. Josh Sheehan (AUS) 145
6. Rob Adelberg (AUS) 135
9. Taka Higashino (JPN) 95
10. Rémi Bizouard (FRA) 90