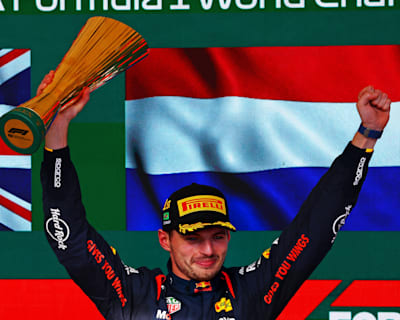 © Getty Images/Red Bull Content Pool
F1 to 10: What really happened at the F1 São Paulo Grand Prix
F1 world champion Max Verstappen made up for last year's Brazilian blip with a crushing win for Oracle Red Bull Racing at Interlagos, but team-mate Sergio Pérez missed out on a podium by millimetres.
1. São Paulo in exactly 74 words*
Max Verstappen
surpassed Alain Prost for fourth place on the all-time Formula One win list with his 52nd career victory at the
São Paulo Grand Prix
,
Oracle Red Bull Racing's
reigning world champion winning for the 17th time this season and fifth race in succession. The Dutchman won Saturday's 24-lap Sprint race, too. Team-mate
Sergio Pérez
came through from ninth on the grid to fourth, pipped to the podium by Fernando Alonso (Aston Martin).
* 2023 is the 74th season of the F1 world championship
2. The São Paulo GP in six pics
3. Max's mastery, Checo's narrow margin
There have not been too many boxes left unchecked for Verstappen in the past two seasons. Sunday's victory was his 32nd since the beginning of 2022 – but Brazil was one. Rewind 12 months and Verstappen left Interlagos without a podium in either the Sprint race or Grand Prix proper, the last time he's not featured in the top five in either format.
There was little drama this year, though. Verstappen took pole on Friday before a huge dump of rain rendered the track undrivable for the final five minutes of qualifying and won Saturday's Sprint by 4.2s from second on the grid after passing pole-sitter Lando Norris (McLaren) at the first corner.
Sunday's 71-lap race was under control once he got the start right twice, the initial race being stopped after a huge first-corner crash that eliminated Kevin Magnussen (Haas) and Alex Albon (Williams) and left several other drivers nursing damage from the resultant debris. From there, Verstappen's run to the chequered flag was untroubled, with Sunday making it 15 wins in a row when he's taken pole position, his victory margin over Norris ending up at 8.3s.
With Verstappen in cruise control out front and Norris under little pressure in second place, the late-race intrigue boiled down to whether Pérez could catch and pass Alonso, who defended stoutly all race from his fourth place on the grid.
After both drivers made their final pit stops with 23 laps left, the Mexican hunted the Spaniard down and waited for the right time to strike, scything past with two laps left into the first corner.
Alonso wasn't done, though, repassing Pérez at Turn 4 on the last lap and holding him off by 0.053s. Fourth, though, matched Pérez's best result at Interlagos, in 2016 for Force India and again in 2021 for Red Bull, while he took third in Saturday's Sprint from the same spot on the grid.
4. Points and more points for Tsunoda
Scuderia AlphaTauri
had a third strong weekend in succession in São Paulo,
Yuki Tsunoda
finishing ninth in Sunday's race after coming home sixth in the Sprint 24 hours earlier to see the team draw to within seven points of Williams for seventh in the constructors' championship.
Tsunoda was disappointed to qualify just 16th on Friday but channelled that frustration superbly from there. Sixth place and three points in the Sprint represented the first time the team had ever scored points in F1's short-form race, and he gained seven places on Sunday to comfortably beat his previous best finish in Brazil, which was 14th place two years ago.
Team-mate
Daniel Ricciardo
came to Interlagos confident after his stirring run to seventh in Mexico City, but things went awry for the Australian from Friday onwards. An early-lap mistake in qualifying left him mired in 17th on the grid.
Ricciardo was then unlucky at the start of Sunday's race when Albon and Magnussen crashed in front of him at the first corner, a discarded tyre from Albon's car being flicked up and hitting his rear wing as he tried to take avoiding action at Turn 1. The Australian pitted for repairs with the race red-flagged but re-joined one lap down and soldiered on to finish 13th.
5. The number you need to know
45:
The number of points, from a maximum of 48, taken by Verstappen from this season's six Sprint events. Verstappen and Pérez, 1-2 in the championship proper, were 1-2 in the Sprint-only standings as well, Pérez scoring 25 points on Saturdays.
6. The word from the paddock
The starts were very important today, both of them I think were very good. After that, the whole race was about the management of the tyres. Your focus always needed to be there, but it worked out great today
Drivers' Championship top 5
Constructors' Championship top 5
Sergio Pérez
has been a staple on the F1 grid since he debuted way back in 2011 for Sauber; today, Checo's 254 starts place him 10th in the all-time record books, and he's comfortably the most successful Mexican F1 driver ever.
Watch below as we sit down with Checo and reflect on his 13 F1 seasons, hearing from the man himself on milestones like his first podium in 2012 and first win in 2020 while recapping his numerous iconic street race successes.

7 min
The Best Moments of Checo Pérez's F1 Career So Far
The 2023 Formula 1 Singapore Grand Prix will be the 250th F1 Start for Sergio "Checo" Pérez, and all of us at Oracle Red Bull Racing are proud to be a part of 58 of those.
9. Where to next, and what do I need to know?
Round 21 (Las Vegas), November 16-18
Circuit name/location:
Las Vegas Strip Circuit, USA
Length/laps:
6.201km, 50 laps
Grands Prix held:
Debut in 2023
What we know about Vegas:
It'll be big and ground-breaking. Consider: F1 cars traversing the famous 'Strip' under the dazzling neon lights at night with a 10pm Saturday start. Every Vegas landmark building is a backdrop as the world's best drivers hit an estimated 340km/h (212mph) on the long, long back straight. Oh, and the after-parties … F1's footprint in the global entertainment space has got bigger and bigger in recent times, but Vegas – brash, audacious, fanciful and fantastic – puts the sport in a brand-new stratosphere.
10. Inside the wide world of Red Bull Motorsports
Las Vegas will be a street circuit like no other, but what are the best road tracks we've ever seen? There are arguments for many – Monaco or Macau? Albert Park or Montjuïc Park? – and the good thing about this debate is that there's no single right answer. But what about a top 10? We're spoiled for choice …
Buckle up and take a ride
around the best street circuits in the world, some of which have never hosted F1 (and never will), others that are staples of any calendar, and others still that offer a trip down memory lane, not to mention a history lesson.