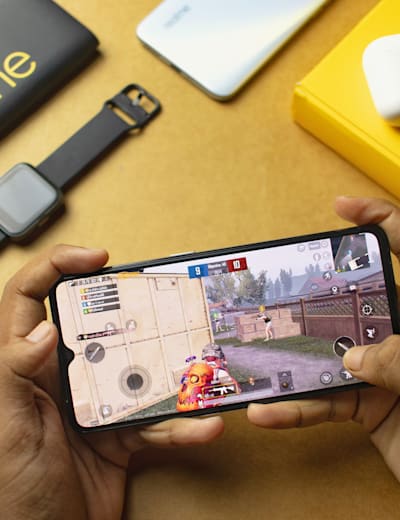 How to level up fast in PUBG Mobile
© IG: @the.flatlay.kid | Dewam Katole for realme
Six handy tips on how you can make the most of your time in the game to rise up to level 100 quickly.
PUBG Mobile is one of India's most popular games with a thriving industry that has seen the likes of comedians, cricketers and musicians get involved alongside professional gamers, commentators and content creators.
The game has become a cultural phenomenon in the country with everyone and their grandmothers hooked onto it with their individual mobile phones. And while most of the community plays it leisurely, some amateur gamers have dedicated themselves to getting better.
If you are one of those gamers, levelling up in the game is probably one of your top priorities. The highest level you can get to in PUBG Mobile is 100, and most of the gamers at that level are the ones who got into the game early and worked their way up over time. But don't worry, read on for our handy guide on how you can level up quickly in PUBG Mobile.
What is a level in PUBG Mobile?
First, let's clarify what we mean by level. Your level in PUBG Mobile is one of your core statistics, which unlike your rank does not change with each season. Your level can only increase, never decrease and it is usually an indicator of you time spent playing the game. By no means, is your level a measure of skill, and it isn't to be confused with your rank which is greatly affected by your performance in the game.
How does your level increase?
Your level is directly related to the amount of time you spend playing the game. So the more time you put into the game, the higher your level will be. Your level rises by collecting XP and pretty much all modes in the game provide you XP. However, consistent performance, living longer in matches and generally doing well are all rewarded with higher amounts of XP. But there are ways to get your level up faster than usual.
Below are some tips to help you level up fast in PUBG Mobile:
1. Stick to the classic game mode
If your main objective is to level up fast, then you have to stick to just playing the classic mode over and over again. This is the mode that offers the highest amount of XP and allows you to level up quickly. While it's okay to experiment and enjoy other modes once in a while, the classic mode offers the fastest path to levelling up.
PUBG Mobile has daily, weekly and progression challenges which provide some very decent XP bonuses. These can range from simple activities like logging into the game, watching videos, driving vehicles, healing and other simple activities. Make sure you tick off all these challenges to pick up the XP.
3. Keep track of progress missions
Every time you climb a level in PUBG Mobile, you are given three progress missions. Completing these progress missions helps you collect XP to climb to the next level. Remember to keep track of these missions. They can be completed over the course of a few games but make a mental note so you are actively trying to complete them when playing.
In classic matches, focus on surviving and making it into the top 5 (or at least the top 10) instead of engaging in gunfights. Winning the game definitely provides the highest XP, as well as reaching the top 5. While picking up kills can be fun, it won't help long-term in your levelling up plans, so dial down on the aggressive play and focus on less risky tactics like camping to survive.
Try to land in less populated areas and loot on your way into the circle. If you are already in the circle, try to pick a vantage point so you can pick up some kills, which also adds to XP; just do it from a distance so you can avoid getting killed. Remember to not get into long drawn fights and make sure you always have vehicles nearby to make safe rotations once the circle closes in.
"First of all, in the new kill/death system in classic mode it becomes compulsory to give preference to kills to earn more points and rank up faster. Give priority to the zone because chicken dinner still gives the maximum points to rank up," says gamer
Arkam 'Sonic' Rashid
of UMumba.
5. Find teammates with the same mentality
Since you'll mostly be playing with teammates, it's always great to find a squad you gel with. Sonic says that one of the most important aspects of ranking up is to "try to play with players of same mentality." This means that your teammates should have the same objective for each game – picking up XP so you can level up faster.
If a teammate wants to have fun by engaging in gunfights or chasing after air drops and kills, they probably aren't suited for your games which are focussed on levelling up. Try to find players who are willing to play a slightly passive game and have the farsightedness to go for a chicken dinner.
6. Healing provides XP bonuses
Another key element to farming XP is healing. Using bandages, medikits, energy boosters and painkillers, adds to your XP collected at the end of a match. You can even choose to wait in the blue or fall from a height to take damage so you can use health regenerators to heal and add to your XP. Just make sure you manage your supplies for when you need them after fights with opponents.