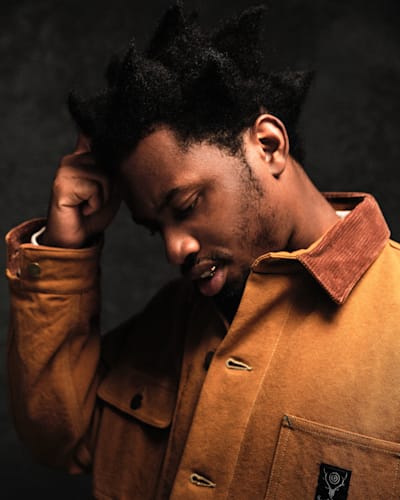 © Adrian Villagomez
Denzel Curry: "I was disguising my trauma in the music I was making"
American rapper Denzel Curry explains how working on his mental health with a therapist helped him make Melt My Eyez See Your Future, his latest and most successful album to date.
After more than a decade on the scene, Denzel Curry is ready for the big time. The Florida rapper began writing rhymes in sixth grade – having long harboured dreams of becoming a poet – and released his first mixtape at the age of 16.
A string of acclaimed albums, mixtapes and singles later – most notably his punk-inspired breakout track Ultimate in 2015 – the now 27-year-old has gained a reputation as one of the most talented lyricists in the hip-hop underground, with numerous high-profile fans, from Thundercat to Billie Eilish.
But Curry's readiness to take the next step in his career has as much to do with the work he's done on his mental health as it does his industry accolades. In the past, the rapper has struggled to convey via his music the trauma and torment that have stalked him throughout his career, including the sexual abuse he suffered as a child.
But on his latest album, Melt My Eyez See Your Future, he's finally able to be completely honest. "I didn't play it to my friends for months because it was so real," he admits.
Here, Curry details how working on himself has opened the door to his musical future.
What prompted you to open up on this new album?
Denzel Curry: For a while I was disguising my trauma in the music I was making. But people have this perception of you, like, 'Oh, man, you're not willing to man up to whatever you've got going on'. And so I wanted to man up about every single thing. I don't need people to tell me who I am; I know who I am. That's what made me write it all down. I was feeling remorseful about the majority of my actions, and I had to put it out somewhere, somehow.
When did you realise things had to change?
I was at the studio. I was saying a lot of shit that was super-suicidal, and then I had to really think about myself, like, 'What am I saying?' I went home and broke down to my girlfriend about everything I've been through. She had tears running down her face, and I'm crying and shit. It was just a lot. My girl was actually the one who helped me find a therapist.
How has therapy helped you?
It made me open up about a lot of things, because you're mining and digging up some pretty deep-rooted stuff. All my previous actions were based around something that happened to me in my life. I'm shaped by trauma. But nowadays, at the age of 27, I'm shaping myself by overcoming trauma. My therapist was like, 'We're not looking for you to be perfect; we're looking for you to progress as a human being'.
There's a stigma surrounding therapy and mental health, especially in the Black community. Did that delay you seeking help?
Definitely. If you told your homies you were going to therapy, they'd be like, 'What you going to therapy for? Are you crazy? Don't go to therapy, just talk to us'. But you can't tell them half the shit you've been going through, because they wouldn't get it. I need somebody who's on the outside, someone completely unbiased.
Thundercat, who appears on your new album, recently told The Red Bulletin how Muay Thai [Thai boxing] helped him overcome his own traumas. Have you guys ever connected through it, given you're also a keen Muay Thai fighter?
Me and him were hanging out every day throughout quarantine. We'd watch a lot of fighting together, and I'd show him my sparring videos. I'll go through certain arm techniques he can use to stretch out his legs and stuff, and he'll show me boxing techniques. We related so much through that and through just being yourself. He's actually one of the reasons why I continue to be myself, because he doesn't give a fuck. He's like, 'Bruh, I'm gonna wear this. I'm gonna paint my nails. I'm gonna get a [anime series] Cowboy Bebop tattoo, and I'm gonna wear these cat ears'. He knows what he likes. And that helped me to express what I like, and how to convey it.
You're Billie Eilish's favourite rapper. How did it feel to learn that one of the world's biggest pop stars was a fan of yours?
It was dope as fuck! But I don't see her as this huge pop star. Everyone around me sees her as the biggest pop star in the world. To me, she's my homie. I've known her since she was young. So I don't see her that way, except maybe when we were out on tour together. It was mind-blowing to see these packed arenas. Being on that tour with her opened my eyes to the possibility that I could do this, too; I could do arenas.
So it gave you new self-belief?
I wanted to be able to do arenas and I was figuring out a way to do it. It's gonna happen one day. Next time you interview me, it will be in an arena somewhere.