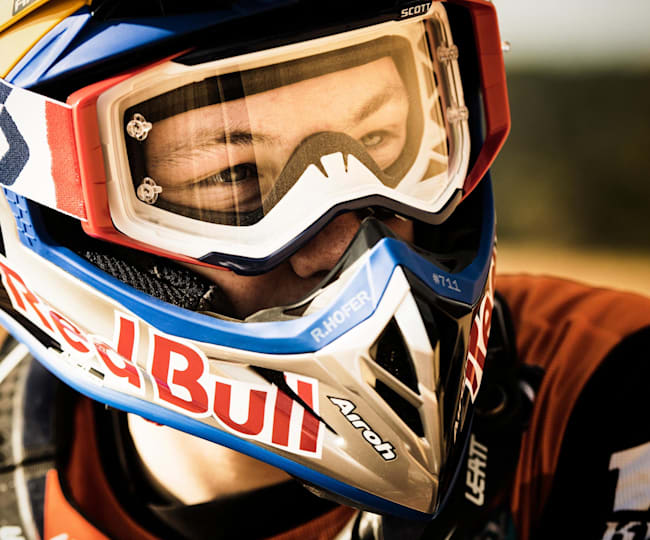 © Markus Berger / Red Bull Content Pool
Motocross helmet guide: safety, sizing & technology explained
Get your head around the tech with our new motocross helmet buyers guide breakdown.
Buying a new motocross helmet can be tricky. Not only are there hundreds to choose from, but with brands bringing out new models every year, the technology is constantly evolving.
Your helmet is – without doubt – the most important piece of kit in your moto gear bag. Your helmet is the only thing between your head and the hard ground, so it's important to make sure you get the right one for you.
With that in mind, have a read through this guide and check you've considered all the factors before buying your next motocross lid.
How do you know if your new helmet fits properly?
Buying a helmet that fits your head properly is crucial. Motocross helmet shape and sizing can vary a lot between brands and models. If possible, it's always best to go into your local motocross shop, get some expert advice and try on a few different helmets to make sure you get the best fit possible.
If buying online, be sure to measure your head before selecting your size. Look at a size chart and make sure you are getting the right size in cm for your head measurements.
To measure your head, simply wrap a cloth measuring tape around your head, about one inch above your eyebrows and ears and take the measurement in cm.
When trying on your new helmet, make sure it sits squarely on your head, with the top of the helmet's eye port just above your eyebrows. The helmet should feel nice and snug, with no pressure points. If the helmet moves around or easily slips out of place when being used, it is too big and you need to go down a size.
It is also worth bearing in mind that internal helmet padding does loosen a bit once worn in. If you are in any doubt as to whether the helmet you ordered online fits properly, call the shop you brought it from and ask for professional advice.
When should you replace your motocross helmet?
The helmet must be reaplced in the event of a big crash where the helmet takes a heavy impact, or to the point where the shell cracks.
Five years is probably the absolute maximum time period for one motocross helmet that has not sustained any major damage. If the padding wears out and the helmet becomes too loose before this period, it's definitely time to replace the helmet.
Depending on how much you ride, a good rule of thumb is to replace your helmet every season or so, as even without a major crash, it is bound to take a few knocks throughout the course of a year, both on the track and in the back of the van.
What safety certificates does my new motocross helmet need?
There are a variety of helmet safety standard organisations that operate all around the world, which perform tests on helmets to establish whether they are safe enough to sell to customers. The two main standards are the DOT and the ECE certifications:
DOT: Department Of Transport
The DOT rating is federal standard FMVSS 218, and any helmet with the DOT sticker should meet these standards.
Any helmet in America needs to pass DOT standards to be legal.
ECE Certification: ECE or United Nations Economic Commission for Europe
ECE Certification is the most common internationally recognised helmet certification, with more than 50 countries using the ECE standards for helmets.
The ECE rating is the highest to achieve because the Impact Attenuation level requires the highest passable rating out of all three ratings, i.e DOT, Snell and ECE.
If you wish to compete in any ACU-run off-road events in the UK, a Silver or Gold ACU sticker on your helmet will be required for you to enter.
What is Mips technology and do I need it?
MIPS (multi-directional impact protection system) is a new helmet technology that is being used by a number of different motocross helmet brands, including Fox, Suomy, Thor and Bell to name a few. Over the last few years, MIPS has become a key component in motocross helmet safety and is now available in helmets throughout the price range.
The idea of MIPS is to reduce rotational motion by absorbing and redirecting rotational energies and forces transferred to the brain from angled impacts to the head.
Developed in Sweden, MIPS technology is now used in helmets worldwide, across a range of action, adventure and motor sports, including professional motocross.
MIPS is not an essential feature for a motocross helmet, but it is certainly a big advantage and definitely one to keep an eye out for when choosing a new helmet. Some brands such as Airoh use its own rotational impact protection system, so although you won't see the MIPS sticker, some of its helmets will feature very similar technology.
What are some handy features to look out for when choosing a new MX helmet?
Good venting:
Motocross gets hot, so the more vents the better.
A removable and washable liner:
This makes a huge difference as motocross helmets inevitably get pretty hot and sweaty.
MIPS technology:
This helps protect your brain again multi-rotational impacts. Being lightweight and having good padding help too.
Which brands are currently leading MX helmet innovation?
When it comes to motocross helmet innovation, 6D Helmets is one company that is right at the front of the pack.
A good example of this is 6D's revolutionary patented Omni-Directional Suspension (ODS), which features a fully active, in-helmet suspension and kinetic energy management system to offer riders maximum protection.
Fox has also been pushing MX helmet technology of late with its new Magnetic Visor Release System. The idea behind this design is to allow the peak of your helmet to come away from the helmet with ease when you crash and not to cause any unnecessary twisting or pressure on your head whilst sliding across the dirt.
Brands like Shoei, Bell, Airoh and Alpinestars are also continuously developing their motocross helmets to the highest of standards.
How much should I spend on a new motocross helmet?
There's no exact answer to this question, but as much as you can afford isn't a bad rule to go by. If you are new to the sport then you should be able to get a good entry-level helmet for around £130. If you are a competitive racer, you should probably be looking more in the £250-plus region.
Bare in mind helmets do have to be replaced from time-to-time, so make sure your budget is sustainable. Also, never buy a second hand helmet, no matter how good a deal it seems.
What are the ultimate motocross helmets on the market?
For many years, the Bell Moto 9 has been the go-to helmet for legendary motocross racers the world over. With top-level safety ratings, supreme comfort and great style, the Bell Moto 9 is a great choice for serious racers. Recent collaborations with brands like Seven MX and Fasthouse have seen a surge in super-stylish Bell Moto 9's hitting the market.
6D is at the fore-front of motocross helmet design and safety technology. The new 2019 6D ATR-2 Carbon Helmet is its latest creation. Filled with a host of cutting-edge technologies, the 6D ATR-2 is one of the safest helmets out there.
With its own stand-out style and cutting-edge technology, the Airoh Aviator means business. Worn by the likes of Antonio Cairoli, this helmet is loaded with top-tech and all the latest features.
Instead of using Mips, this carbon kevlar helmet features Airoh's own system for protection against angular impacts (AMS2).
Airoh
claims AMS2 to be the most advanced system for this type of protection.
What are some of the best entry/mid-level motocross helmets out there?
A new addition to the Shift line-up, the Whit3 Label helmet is the perfect lid for beginner and intermediate riders. With some great features – including a total of 15 vents, a unique and aggressive style, and all at an unbeatable price – the Shift Whit3 Label helmet is an absolute winner for aspiring champions.
The Thor Sector Mips is a great motocross helmet for entry-level riders or racers on a budget and offers outstanding performance, perfect balance and innovative styling. Built to exceed AMA, ACU and ECE 22.05 standards, the Sector is loaded with top features normally found only on higher-end motocross helmets, including Mips technology, a dual-density EPS liner and extensive venting.
For 2019, the Fox V1 Motocross helmet has been redesigned from the ground up. It now features Fox's exclusive Magnetic Visor Release System (MVRS) along with a host of other great features. In terms of style, the V1 is completely on point for 2019, with a tonne of great new colourways available.
The V1 exceeds ECE and DOT Certifications and also includes an ACU Gold Sticker.
Can I spray paint my helmet if I want to change the colours or design?
Tempting as it might be, it is strongly advised that you do not spray-paint your motocross helmet yourself. Using the wrong type of paint can seriously affect the structural composition of the shell and the overall safety of your helmet. If you want a custom paint job for your lid, take it to a professional helmet painter.