Music
Collective Genius: EarthGang and JID
EarthGang and JID don't match the common perceptions of Atlanta rappers. But as the city that's transformed hip-hop evolves, these performers are ready to make a statement about the soul of Atlanta.
When you're an athlete you have to be focused; when you're an artist you have to be free. When you're an artist-athlete, you have to be both
Logan "Logistix" Edra is a breaker and mental health advocate. Read more about how she's breaking free and finding her authentic self!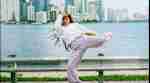 The Red Bulletin November issue is out now!
Hip-hop will always resist efforts to typecast the culture in simple terms. There's too much nuance and history; it's a living, breathing entity. Consider our cover story— "Collective Genius"—a profile of the artists
JID and EarthGang
(the duo pictured above). These performers defy the general public's perceptions of Atlanta hip-hop as if the world's most prolific hotbed of hip-hop talent could possibly be defined by trap or certain manners of style.
The culture is plenty big enough to embrace such talent and texture. Likewise, pigeonholing hip-hop as a musical genre excludes dance's central role in the culture. In that vein, the portfolio "Breaking Ground" celebrates
Martha Cooper
's iconic photography documenting the rise of breaking. And "Breaking Free" profiles
Logan "Logistx" Edra
, a world-class dancer and outspoken advocate for mental health. This duality embodies the depth of hip-hop culture, as rich and textured as life itself.
Grab a copy of the November issue available on newsstands today!