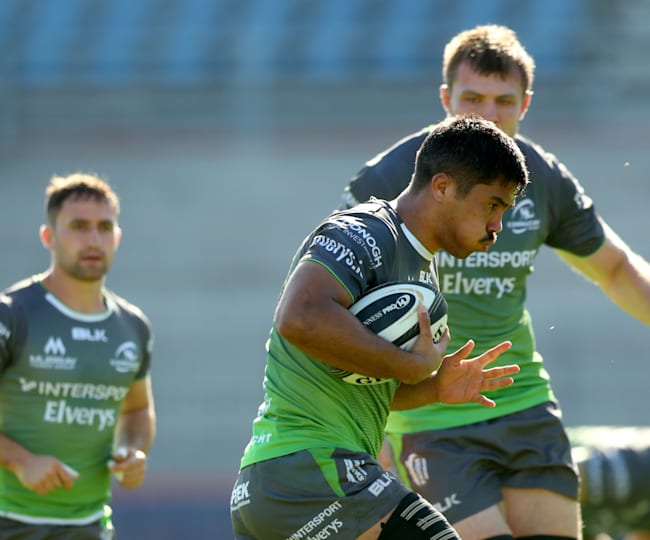 © INPHO
Meet Connacht Rugby - Jarrad Butler
Go behind the scenes of Connacht Rugby and meet the players who call Galway home
It's that time again! We bring you a closer insight into the
Connacht Rugby
squad. Lets recap, so far we've caught up with Bundee Aki, Dave Heffernan, and Ultan Dillane. Next up for a grilling, is flanker
Jarrad Butler
.
Butler now calls the West-Coast of Ireland home, having been born in New Zealand. The Connacht No.8 sat down with
Red Bull Ireland
for a quick-fire Q&A, where he talks about why he loves playing for Connacht and surprising things people may not know about him...
1. What's your favourite rugby memory?
When I was a kid, I remember going to a junior coaching clinic and Jonah Lomu and some of the other players for the Hurricanes were there. It was an awesome experience and set me on the path that I am living today.
2. If you could re-live one moment from your rugby career, what would it be and why?
This is always such a tricky question. There isn't one specific moment that I'd like to relive, as they have all been building on each other and they all helped me to where I am now.
3. What's the one thing you could not live without and why?
It has to be my music. Before games, during gym sessions, driving to training in the Sportsground when it's lashing rain (most days) or in the freezing cold. It's the ultimate motivator. I've got playlists for lots of genres depending on the mood. My most listened to is probably hip-hop though.
4. Best player you have played with and why?
Ben Mowen of ACT Brumbies and the Australian national team. He was always so positive, always put the team first, and would go out of his way to help anyone. As a young lad at the time, that stuck with me. But the best player I have ever played against would have to Ma'a Nonu from New Zeland now playing for San Diego Legion. He is one guy I always struggled to tackle. I don't know if it was the quick feet or the dreads flying all over the place, but he always had me digging deep for whatever I had left in the tank so I could make the tackle.
5. Favourite thing about playing for Connacht?
The best thing about playing for Connacht for me has to be the mix of players you get from all over Ireland and the world. You get guys with chips on their shoulders and a point to prove.
6. What's your go-to food and drinks for gym sessions and before a big game?
If it's a lite training session I'll stay on the water as much as possible, but if I'm feeling flat then Red Bull does the job for me. For me, ahead of games, less is more. I'd usually have one full meal. Spaghetti bolognas or something along those lines, then maybe a banana and an energy gel in the sheds. In a couple of hours leading up to the game, it's all about water and electrolytes, then before we warm up, I'll have a can of Red Bull green edition. It's my favourite flavour.
7. What keeps you motivated to keep striving for excellence through all the hard training sessions and matches; the highs and lows?
It's my dream job. It's what I've wanted to do since I was 9 years old. If I didn't love it, it would be impossible to do it day in, day out. Secondly, once you're on the field, for me it's about not letting down my teammates. Work hard for them, and expect the same in return.
8. Who do you most like/dislike rooming with when with the Connacht team and why?
Anyone who doesn't snore is an instant winner in my books. If you get the short straw and get Dom Robertson McCoy or Bundee Aki you're in for a long night, they tend to be snorers.
9. If you could have dinner with anyone in the world (dead or alive), who would it be and why?
My mum. There wouldn't be any uncomfortable silences or anything. Just good food and good company.
10. Tell us something not many people would know about you?
I learnt the ukulele for about 6 months, but am still useless at playing the damn thing.
11. Finally, what are your goals for the next 12 months?