All you need to know about Crankworx Innsbruck
© Kike Abelleira/Crankworx
Check here for all the info from this year's Crankworx event in Innsbruck. Find out who won what, how to catch up on the action and what next year has in store.
The dates for the 2021
Crankworx Series
are yet to be revealed, but expect to see plenty of gravity-fuelled mountain biking action in Whistler, Innsbruck and Rotorua.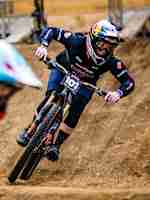 What makes Crankworx so special?
Download the free Red Bull TV app and catch the MTB action on all your devices!
Get the app here
Crankworx Innsbruck 2020 highlights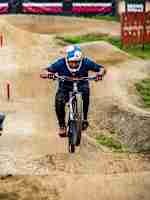 With the world more than ready to get its teeth into some global racing action, all eyes were on
Innsbruck
as an international line-up of athletes competed for the various titles up for grabs.
French athletes dominated the early days of Crankworx Innsbruck, with
Morganne Charre
and
Adrien Loren
victorious in
Dual Slalom
, while
Mathilde Bernard
and Loren took the wins in the
Pump Track Challenge
after hard-fought battles.
The first big downhill race of 2020 saw local Austrian athletes at the top of the podium. The weight of expectation on
Vali Höll
for her first Elite season didn't appear to hinder her performance, with a convincing win over
Tracey Hannah
in second place. Joining her in the gold medal position was
David Trummer
, who took the hot seat early on and held on to it.
Inclement weather caused some disruption to the planned schedule, meaning the Speed and Style finals were cancelled and qualification results used instead, which meant victory for
Tomas Lemoine
.
Emil Johansson
took his third Crankworx Slopestyle win in a row, despite high winds threatening to disrupt the action. Lemoine took second place, with
Erik Fedko
in third.
Watch Emil Johansson's winning run below: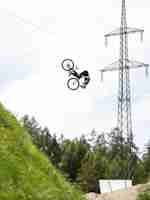 Emil Johansson's Crankworx Innsbruck 2020 winning run
Given the exceptional nature of 2020, with only two Crankworx World Tour series events taking place in Rotorua and Innsbruck, there were no points awarded for the year-round
King and Queen of Crankworx
contest at Innsbruck. Nor were points awarded for the individual Crankworx Championships, such as slopestyle. Let's hope normal service resumes for 2021!
Who to look out for at Crankworx Innsbruck 2021
All eyes will be on Emil Johansson to see if he can make it four for four in Slopestyle. Vali Höll sustained an ankle injury ahead of the 2020 World Championships, which put her out of play for the rest of the season, but she should be fit, well and ready to defend her title in 2021, where she'll again be the local favourite. Her fellow Austrian David Trummer will surely be keen to defend the title he won on home soil, too.